Protecting Albertans from measles
Wednesday, March 30, 2016 9:47 AM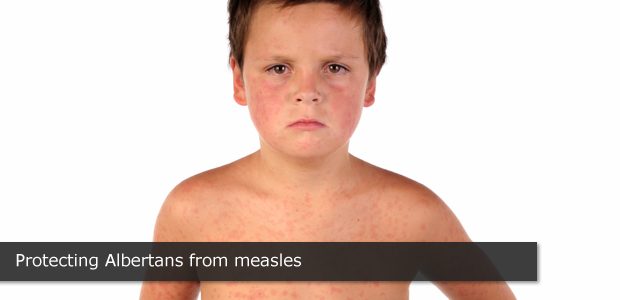 We understand that diseases, like measles, are concerning to Albertans. We share those concerns.
That is why we take the actions we do to protect Albertans from measles, both proactively through immunization and reactively, through notification and exclusion (where potentially infected people who are not immune are asked to stay away from other people for a set period of time).
A case earlier this month in the Edmonton Zone was a good example of the steps taken to protect Albertans. Measles is one of the most contagious illnesses there is. Anyone who is not immune and is exposed to measles is at risk of developing the disease.
For this reason, our focus upon receiving lab confirmation of a case of measles is identifying where the person has been while infectious, and then notifying anyone who has been exposed, of this exposure.
In situations where we can personally identify the individuals exposed, we directly notify them. Where we cannot personally identify the individual exposed, we are not able to directly notify, and we therefore will issue notification via media.
We've followed this process - swiftly and efficiently - in response to the Edmonton Zone case. On March 18 we received lab confirmation of a case of measles in a child who visited the University of Alberta Hospital (UAH) Stollery Emergency Department.
The child visited two health care settings, while infectious. Any individual who was in either of those two locations, during the window of exposure (which is while the individual was there, and two hours after the individual left), has been directly notified by AHS of the exposure.
Of those exposed individuals, 101 were NOT immune, and therefore are under exclusion for the remainder of their incubation period.
This is standard. There is nothing unusual about this case, or our follow-up. As always, as soon as we received lab confirmation, we contacted the infected child's family, to confirm where the child had been while infectious.
Once those settings were identified, we requested and obtained the lists of all patients who were in those settings during the period of risk. As soon as we received those lists, we contacted those who been potentially exposed, directly.
Our efforts are focused on one thing: protecting the health of Albertans.
Although there is no treatment for measles, it can be prevented through immunization. In Alberta, measles vaccine is offered, free of charge, through Alberta's publicly funded immunization program.
Children in Alberta typically receive their first dose of measles vaccine at 12 months of age, and their second dose between the ages of four and six years. Albertans uncertain of their immunization history, or their child's immunization history, can call Health Link (811) to discuss.
For more information on measles and immunization to protect against measles, visit www.immunizealberta.ca.