Enhanced spiritual care at the Tom Baker Cancer Centre
Friday, March 17, 2017 2:48 PM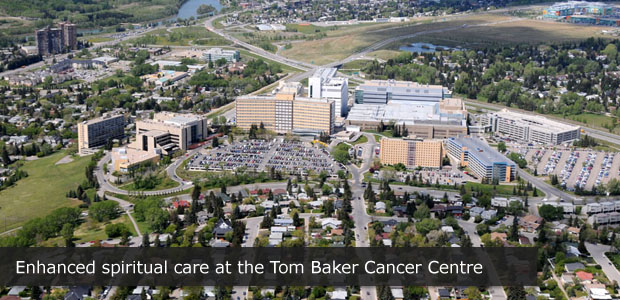 Spiritual care is essential to comprehensive cancer care. CancerControl Alberta provides all aspects of patient care that go beyond medical treatment including psychosocial, spiritual and emotional support and care.
Spiritual care at the Tom Baker Cancer Centre (TBCC) no longer falls to just one person. Now, it is a shared component of all psychosocial oncology care at the TBCC. Psychosocial oncology addresses the science and practice of the emotional, psychological, social, spiritual, and functional aspects of the patient's and family's experience of cancer as well as the interplay between behaviour, physical health and well-being.
The TBCC psychosocial oncology department has ten clinicians including psychologists, social workers, and resource counsellors who are part of an internationally-recognized program. They are well equipped and trained to provide emotional and spiritual support to patients through their cancer journey.
Using the model of integrating psychosocial oncology allows us to treat the whole patient and address a deep and complex range of concerns/
This enhanced model of care is standard across Alberta in our ambulatory care facilities, which TBCC is one of. These facilities – which do not have inpatients - generally do not have a dedicated spiritual care position. Cancer patients who need to stay longer than 24 hours are admitted at the adjacent Foothills Medical Centre and have access the onsite chaplains. This approach is similar to the Cross Cancer Institute which also offers inpatient care.
We have also found that at times that patients prefer to use their own spiritual care and faith-based resources closer to home. Our psychosocial care team has and will continue to foster these links, welcoming spiritual leaders and community faith group members to visit patients and their families to provide support when needed.
We greatly appreciate everyone who works in cancer care, and we have a responsibility to ensure we make the most out of our services and resources for patients and allocate our focus to where there is the greatest demand and need.
If anyone who accesses AHS care requires spiritual care, they will receive it.