Op-ed response to Calgary Herald Don Braid Column from AHS President and CEO
Wednesday, October 25, 2017 3:03 PM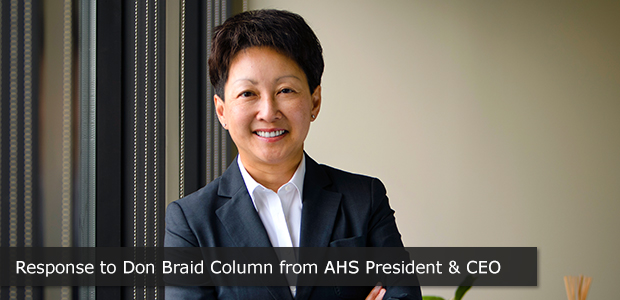 Last week, Alberta hosted provincial health ministers from across the country, to discuss common healthcare concerns, and share solutions.
I was honoured to talk with our guests Thursday night, and was proud to talk with them about Alberta's healthcare system - highlighting successes, and acknowledging areas where we need to improve.
Because there will always be areas to improve. But, that does not mean we shouldn't celebrate what we do well.
Albertans continue to see improvements in their healthcare system, and we continue to provide excellent patient care as efficiently as we can. Alberta continues to have one of the lowest administration costs as a portion of total spending of any health authority in the country.
That is something our counterparts from other provinces are particularly interested in learning about. And there are many other areas where Alberta leads the way.
Wait times in our emergency departments are coming down, and our emergency department patients are being seen and discharged faster.
We are ranked first in Canada for the least total time spent in an emergency department for admitted patients, we have the fewest repeat hospital stays for mental illness, and the fewest hospital deaths after major surgery.
And, we were the first healthcare system in Canada to post online estimated emergency department wait times.
Our stroke program teams, on average, admit, diagnose and provide clot-busting medication to stroke patients in 36 minutes, one of the fastest rates in the world.
We also have the second largest transplant program in Canada, and were the first healthcare system in the country to perform islet cell transplants, freeing people with Type 1 diabetes from insulin injections.
These are all things we should all be proud of.
At AHS, we report publicly a list of performance measures every quarter. They are posted on our public website - we do not shy away from transparency.
Significantly, more than half of our performance measures have improved from the same time last year.
For example, six of the measures met their targets or showed improvement, including disabling injury rates, and the percentage of nursing units achieving best practice targets. This means that staff safety is improving, and that our nurses are providing more effective care.
Our hand hygiene rates are also significantly better, which enhances the safety of our healthcare facilities and in turn, our patients. And, more children are receiving specific childhood immunizations, improving the health of our communities.
We know there are areas where we have not seen improvement, or have seen a decline in performance - quarterly measures allow us to compare data, and point us to areas where we need to put more focus.
We have strategies in place to help us achieve our targets. For example, we are working hard to minimize the number of patients waiting for a continuing care bed.
These people deserve to be cared for in a more appropriate environment, and we also know that this capacity issue affects other areas of healthcare, including ED visits and acute care.
In Q1, AHS opened 388 net new continuing care beds including 86 beds for seniors with dementia. Since 2010, AHS has opened 6,051 new beds to support individuals who need community-based care and supports.
We know that some of our wait times are too high, and we are putting significant effort into reducing waits in high priority surgeries and procedures. These efforts are producing results.
For example, we continue to review surgical and referral wait lists to further reduce wait times, and are reducing inappropriate testing and medical procedures, thus increasing access.
We are proactively managing surgical wait times by implementing the adult coding access targets (aCATS) project to reduce surgical wait times, and reallocating OR time to address wait times that exceed targets.
AHS has fewer managers per employee than the majority of organizations in Canada, at a ratio of 29 staff to one leader. According to Conference Board of Canada (2017), the median span of control for all Canadian organizations is 12:1.
That is another area our health ministers were interested in. It is no surprise to us that other provinces have moved towards a single provincial health authority.
We are proud of our healthcare system, especially the work of our frontline staff who provide excellent, timely and effective care and support to Albertans every day.
We should take time to celebrate that, not denigrate it. My message to our visiting ministers is simple - we hope you don't get sick while you visit our great province, but if you do we will be here for you.
Just as we are for all Albertans.
Dr. Verna Yiu
AHS President and CEO