AHS serves up fresh food in long-term care facilities
Thursday, November 16, 2017 1:26 PM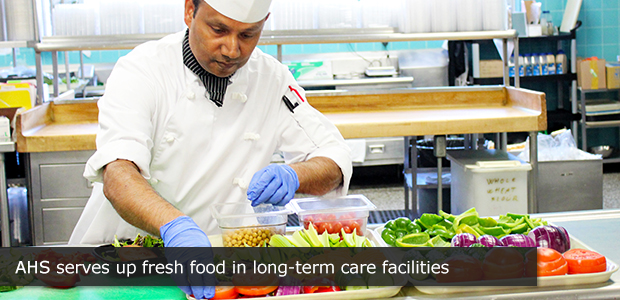 Recently, it has been suggested that our long-term care facilities do not serve fresh food, particularly at the Willow Creek Continuing Care Centre in Claresholm. This is simply not true.
Meals at the Willow Creek Continuing Care Centre are prepared onsite for our residents. We use a combination of fresh, frozen, and canned products and ingredients. 60 per cent of our menu items are made from scratch in the Willow Creek kitchen.
These items include resident favorites such as roast meats, baked goods, soups, sandwiches, salads and entrees. When food such as lasagna is frozen or prepackaged, we often add fresh ingredients when preparing the meal onsite to enhance resident satisfaction.
Wherever possible our menus include fresh, Alberta-grown foods like Taber corn in the summer, and locally grown cucumbers, tomatoes, peppers and potatoes year-round.
We know that good nutrition contributes to maintaining and restoring health, managing chronic disease and reducing the risk of malnutrition. This is achieved through providing healthy, nutritious, appealing and great-tasting food.
Alberta Health Services takes nutrition very seriously, because food is medicine.
We also know that there are times when residents and their families express concerns about the meals they have been served. We take these concerns seriously, and work with them to improve services and provide healthy, high-quality meals.
Residents and families in Claresholm are currently participating in tastings of new menu items. Based on their feedback, items may be added to the menu or modified to best meet residents' preferences.
In all of our long-term care facilities in Alberta, we offer a selective menu in a dining room setting with table service for our residents. Meals include familiar favorites like beef stew and shepherd's pie.
Over a third of the food we purchase to serve in our facilities across the province is Alberta-grown or produced and we are working with vendors to expand this even further. Ingredients are purchased from a variety of approved suppliers, in accordance with approved AHS purchasing regulations and requirements.
Throughout the province, we regularly engage residents through resident council meetings. We gather feedback during informal meal rounds and we conduct patient satisfaction surveys to improve our menus or to meet requests for new menu items and special meal celebrations.
AHS food services follows Canada's Food Guide when planning menus for meals prepared in our facilities. We tailor patient and resident meals to meet individual nutritional and care needs in all AHS facilities.
Nutrition is essential to health and recovery; food is key to optimal health outcomes. Our 5,000 nutrition and food services staff service 108 sites, providing food to patients, staff and visitors.
They also offer clinical nutrition support to patients and in support of population health, primary care and chronic disease management, education and practice research.
We know that to be healthy, you need to eat healthy, because food matters.