AHS 100 per cent supportive of Supervised Consumption Service in Red Deer
Friday, December 22, 2017 10:59 AM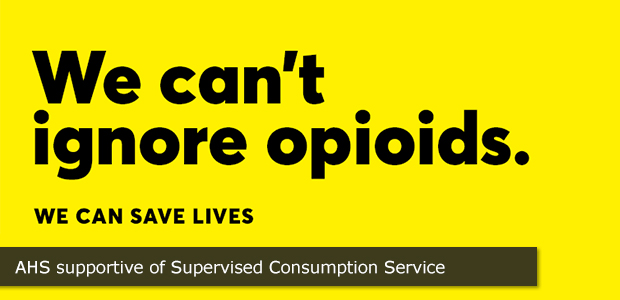 There is currently some debate as to where a supervised consumption service (SCS) should be located in Red Deer.
Alberta Health Services is 100 per cent supportive of having a SCS in Red Deer. We are fully committed to helping open such a service in the community and we are fully engaged in discussions with multiple partners.
Supervised consumption services save lives. We know this because of the evidence both within Canada and internationally, and because we have seen it first hand at the SCS at the Sheldon Chumir Health Centre in Calgary.
We are engaged in the discussion around such a site in Red Deer. We have partnered with the Red Deer Coalition on the Opioid Crisis (RDCOC) since the outset, and we have been working with our community partners to develop community-based strategies on prevention, education and awareness, harm reduction, promotion and treatment.
Through this work, we have been engaged in a number of conversations about the natural alignment Turning Point's current harm reduction programs have with adding supervised consumption services.
We have also heard from the needs assessment conducted by Turning Point that they are the preferable location for those who would seek out a supervised consumption service.
Turning Point has been working with this population for years and are in a much better position to provide the proposed supervised consumption service than any other facility in Red Deer.
We have, and continue to, support Turning Point in its efforts to establish a supervised consumption service in Red Deer. And we look forward to continuing to collaborate with our partners – including Red Deer City Council - in responding to the opioid crisis.
Together, we can save lives.
The location of SCS is critical to its success in reducing deaths due to opioid overdoses in our communities.
Locating an SCS away from the individuals who need the service makes it inaccessible – substance users are not going to use public transportation or travel long distances in order to access this service. We need to come to them.
AHS does not believe that providing supervised consumption services at one of our health facilities in Red Deer is the right approach. Because of that, AHS is not planning to submit an application to offer supervised consumption services at our health facilities in Red Deer. We have shared this position with the City of Red Deer, and we look forward to continued conversations on where to locate a SCS for the benefit of all.
Our goal is to ensure we can reduce deaths and provide supports and other services that may provide an opportunity for someone to seek the help and support they need when dealing with substance use challenges.
Ultimately, wherever a SCS is located in Red Deer and in any Alberta community, AHS will be a willing and supportive partner. Over the long term, this investment will save lives and better support people who use substances, people with addictions, and their families.
With 241 opioid related deaths in Alberta in the first half of 2017 it is imperative that we work collaboratively to implement solutions as quickly as possible.
Since 2016, AHS has opened or expanded services including new clinics in southern and northern Alberta, a rural opioid dependency clinic in Central Alberta, and expanded services in Calgary and Edmonton, increasing access to supports including addiction services and social supports – in turn helping individuals with housing, financing and employment in hopes of promoting recovery from addiction.
We want more Albertans to receive the care they need in their own communities and help save lives. Across Alberta, there are 16 clinics that treat opioid dependency. Five of the 16 clinics are provincially funded and delivered by AHS and provide a full range of counselling and support services.
A full listing of the clinics can be found on the College of Physicians and Surgeons website. You can learn more about SCS on the AHS website.