Air ambulance updates will improve patient care
Friday, March 16, 2018 2:32 PM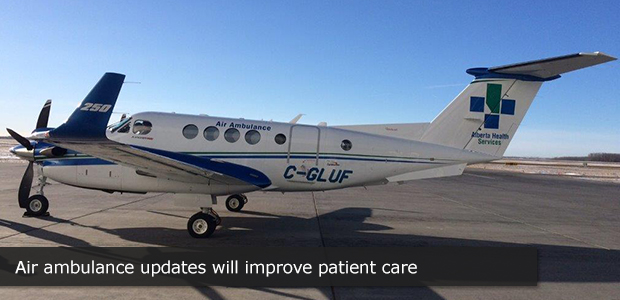 Alberta Health Services announced on March 15 that Peace River residents will continue to have access to high quality air ambulance service based at the Peace River Airport.
There has been reaction following this announcement that patient care will be somehow negatively impacted.
This could not be further from the truth; AHS has taken every step possible to ensure those who depend on this important service continue to receive high quality care.
Northern Air Charter – which was the unsuccessful incumbent as a result of the AHS request for proposal (RFP) for air ambulance services across the province – is one group that has criticized this decision. They continue to challenge the outcome of the RFP process legally, and continue to spread information publicly that suggests patient safety will be jeopardized.
Northern Air Charter currently provides two fixed-wing air ambulance aircraft in Peace River and their agreement with AHS expires March 31, 2018.
Beginning April 1, 2018, AHS' new contract provider, CanWest Aviation, will base one 24-hour emergency air ambulance in Peace River. When not in use, this plane will be stationed on the tarmac.
A second plane, used for scheduled air ambulance service to northern Albertan communities, will be temporarily based out of Grande Prairie. This will not impact patient transports; this plane will start and end its day in Grande Prairie, but will otherwise do the same work as if it was based in Peace River.
These arrangements are both temporary as CanWest continues to work with the Town of Peace River on having a hangar at the Peace River Airport. Once a hangar is confirmed, both planes will once again be based at Peace River Airport.
Some parties have been so focused on the location of where a plane will take off and land in the short term, that little attention has been given to the improvements in quality of care that these changes signal in the long term.
All Albertans, especially those in the north who rely so heavily on this vital service, have reason to be excited.
Both planes that will service Peace River are brand new and will directly benefit patient care through improved flight safety and quality enhancements, such as:
• Modern avionics technology, such as communications, navigation and improved proximity warning devices, to enhance flight and patient safety.
• Improved speed, comfort and reliability.
• Updated and standardized medical interiors creating a better workspace for air medical crews to provide care to patients. Standardized interiors provide improved patient care because the standardization ensures crews are familiar with the medical layout regardless of what aircraft they are flying in.
AHS has taken every step possible to ensure those who depend on this important service continue to receive high quality care – this is our mandate as Alberta's healthcare provider, and is the driving goal of everyone at AHS involved in this process. These improvements have the support of physicians, the Peace Health Advisory Council and many in the community.
While the Peace River aircraft is temporarily located outside, steps will be taken to keep the aircraft warm and serviceable. These include wing covers, plug-in heaters, de-icing equipment and keeping pilots on site with the aircraft to allow routine monitoring.
Scheduled maintenance will be performed at CanWest's Edmonton base and a mobile maintenance trailer will be on site at the Peace River Airport with the aircraft to manage unscheduled maintenance needs.
AHS will continue to use current contingency plans when aircraft are unable to take off or land due to weather; these procedures are already in place and are used routinely. When weathered in, consultation with a transport physician determines the safest care for the patient, which may include patients being transported by ground to the most appropriate airport that is not impacted by weather. This is standard procedure and already happens today.
AHS operates a provincial air ambulance system; resources are used across the province to service all Albertans; it is not uncommon for aircraft stationed at a non-Peace River base to transfer patients from Peace River.
For example, the 24-hour Peace River-based aircraft did 568 medevacs last year; 145 of these were from the Peace River Hospital. During the same period, 327 patients were transported from Peace River by aircraft from other bases.
As various challenges are before the courts, we are unable to debate further details of those challenges other than to say that AHS remains confident that it conducted a fair RFP process with the goal of ensuring safe, excellent air ambulance service across the province.
With respect to any specific allegations that have been made relating to the RFP, AHS denies any wrongdoing and is prepared to make a full answer and defense, vigorously defending the RFP process, AHS' conduct and resulting contract decision.
AHS is excited to bring new resources to Peace River and the surrounding area to better support patient care and safety.