AHS EMS working to provide best care on every call
Friday, October 5, 2018 11:44 AM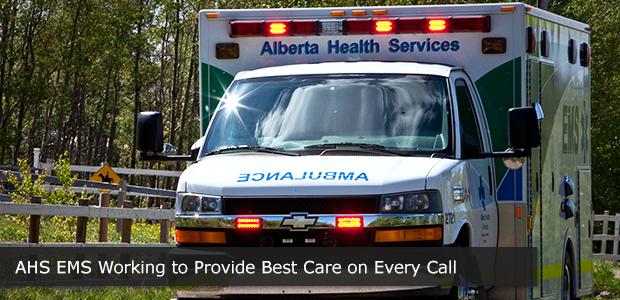 EMS Resource and Operations Improvements
Providing the best possible healthcare is the single most important priority for Alberta Health Services.
When Albertans have an emergency they expect and deserve the best EMS service available. We take this responsibility extremely seriously which is why AHS EMS constantly reviews its operational plan to ensure we have, and are using, the right resources in the right way.
As an example, we know that not everyone needs or wants to be taken to hospital for care. As a result, we have expanded the Community Paramedic program across the province. Today, the community paramedic program supports patients in Lethbridge, Medicine Hat, Calgary, Red Deer, Camrose, Edmonton, Grande Prairie and Peace River. Combined, 30 Community Paramedic units support nearly 180 calls every day that would have previously required transport to hospital
AHS also now utilizes 26 non-ambulance transfer (NAT) vehicles, like wheelchair accessible vans, that can transport stable patients instead of using ambulances. This frees up emergency vehicles to respond to 911 calls.
Thanks to a province-wide dispatch system, AHS can use all of these resources more effectively. By monitoring all AHS and contracted crews, we can ensure the closest and most appropriate resource responds to a call. This is especially helpful during unexpected events, like the Fort McMurray fires or mass casualty incidents, because we can coordinate all EMS resources to ensure we're both responding to the emergency while ensuring the rest of the province continues to be supported appropriately.
It's difficult to predict when or where these sudden and unexpected events or spikes in system pressure will occur. While overtime is always a last resort, it is sometimes required to provide additional EMS support to ensure patient care is not impacted.
Since AHS began delivering EMS in Alberta in 2009, response times have remained steady despite a growth in population and demand. This tells us that our EMS teams are doing a good job, as do our patient experience surveys that show that 97 per cent of patients were satisfied with their EMS experience.
We know, though, we can always do better and we continue to identify targeted investments that will provide additional support to staff and patients.
We also know the single biggest challenge specific to our metro resources is the amount of time EMS crews spend waiting in emergency departments (ED) to transfer the care of patients to ED staff. It's important to understand that this is not just an EMS issue but the result of pressure on the entire system. This challenge is also not unique to Alberta as healthcare organizations around the world are dealing with the same issue.
The ability to free up EMS crews from hospital will immediately improve the number of resources available to respond in Calgary and Edmonton and the surrounding communities that get pulled in to support care during busier times.
As a result, AHS EMS and its healthcare partners have made reducing patient transfer time a priority. There are currently several strategies underway to improve patient flow such as increasing access to both physical therapy and occupational therapy throughout the week, improving processes to address the needs of mental health patients, optimizing the use of urgent care facilities and rural emergency departments and supporting Initial Care Teams to offload patients brought in by EMS. Paramedics also have the ability to consolidate care in EDs, which allows one crew to care for up to three patients so other crews can return to the streets for emergency response.
More isn't always better; better is better which is why AHS is always looking to identify opportunities, including future investments, that ensure Albertans have access to the best possible care today and in the future.