Overcapacity Protocols help address demand
Friday, October 26, 2018 3:51 PM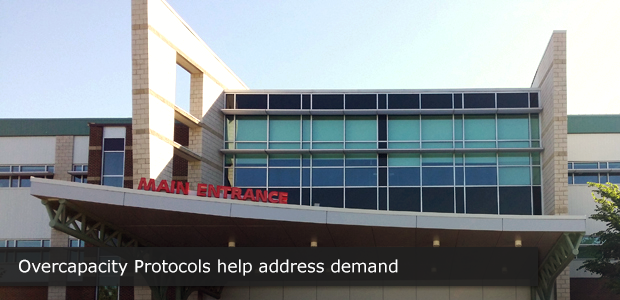 On any given day, hundreds of central Albertans receive excellent care at Red Deer Regional Hospital Centre (RDRHC).
The largest acute-care facility in the Central Zone of Alberta Health Services (AHS), the hospital offers specialized services and advanced care programs, and is the primary referral site for many smaller, rural hospitals.
It manages the specialized acute care needs of patients from across the zone for services like orthopedic surgery, cancer surgery, advanced diagnostic tests, critically ill (ICU, CCU) and high risk obstetrical patients. The advanced, specialized care provided only at RDRHC means it regularly sees high numbers of seriously ill or injured patients, and its emergency department is among the busiest in the province.
Recently the site has been experiencing significant capacity challenges. We recognize that capacity issues are not new for the site; however we have been seeing higher numbers of seriously ill patients requiring inpatient care, which has resulted in some longer wait times for patients with less serious health needs to be treated in the emergency department.
We understand that waiting for treatment is challenging, and that it can be frustrating. Every effort is being made to reduce capacity pressures and treat patients as soon as possible. In situations when the hospital is over capacity, we have a series of protocols that are enacted to help alleviate pressures at the hospital while ensuring that all patients who require care receive it.
Across the province, AHS has developed provincial overcapacity protocols (OCP) to help manage overcapacity situations when they occur. Overcapacity protocols are enacted relatively regularly, and can be for a variety of reasons. They ensure we are able to continue to meet patient needs, even when our hospitals are full.
As a patient or visitor at any hospital, hearing an overhead page signaling OCP has been enacted may cause you to think there are no beds available in the facility or that we may be closing the emergency department. We want to assure you that is not the case. Patients are not turned away from the hospital, we don't automatically begin postponing surgeries, nor does it mean that there are no beds available.
Signaling the activation of OCP ensures all staff and physicians within the site are aware of the need to make concentrated efforts to respond to the need to increase capacity and work across all programs to ensure patient care is met. Such efforts can include:
Reviewing all eligible patients for discharge from hospital, where appropriate;
Providing enhanced home care support for patients that can safely be discharged early;
Bringing on extra nursing staff to care for the volumes of patients;
Utilizing OCP spaces on inpatient units, including sun rooms, TV lounges and tub rooms.
We recognize that these overcapacity spaces are often inconvenient and less private for patients and their families, but want to assure you that no matter where you are, you're still receiving the same great care. Patient safety and care is our foremost concern, and while sometimes the treatment space is not optimal, we continue to deliver safe and effective care to every patient.
Another way we may address capacity concerns is through patient repatriation, which means sending a patient who is medically stable but still requires further care back to the healthcare facility where they started their patient journey.
An acute care bed isn't always the most appropriate place for patients to receive care. Sometimes their care needs could be met in a continuing care or rehabilitation bed. If, for example, a patient was referred to RDRHC for surgery, they may require some follow-up wound care and physiotherapy that could safely be provided in another site. Our care teams would work with that patient and their family to discuss transfer to another facility that would appropriately meet the patient's care needs.
We understand that moving to another facility to continue care can be disruptive to patients and their families. We strive to provide as much notice as possible if a transfer is to be considered, and involve patients and their families in such decisions. Transferring patients between sites in the Zone can help us provide timely access to care for patients who need the specialized services offered at RDRHC.
Through OCP, we have been able to respond to the recent capacity challenges in Red Deer while ensuring appropriate care for each and every patient. We have these protocols in place for a reason, and the system has worked exactly as intended in response to the challenges being experienced in Red Deer.