Bringing CT and MRI wait-times down
Friday, February 21, 2020 2:34 PM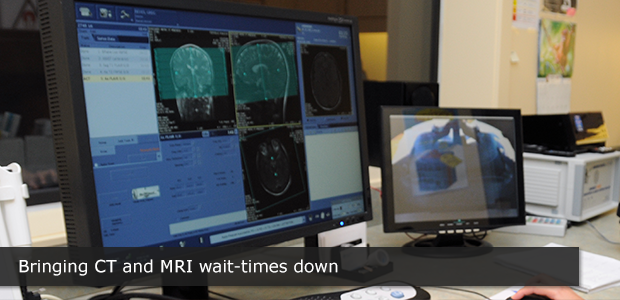 Alberta Health Services (AHS) is immediately increasing the number of CT and MRI scans, in order to bring wait-times down.
AHS has developed an action plan with Alberta Health, and will be taking both immediate and long-term steps to improve access to these important healthcare services.
AHS has renegotiated the fees paid to three large Diagnostic Imaging groups in Edmonton and Calgary by 12 per cent, and will reinvest some of those savings back into enhancing access to imaging.
This, in turn, will allow us to increase the number of scans we perform, provincially.
While wait times for hospital inpatients, or patients in an emergency department, are stable and within clinically appropriate guidelines, wait-times for outpatients referred for a CT or MRI scan are too long.
If a patient is in an emergency department and needs an urgent scan, they are able to get one quickly. And, if a patient is in hospital, they are able to get a scan within 24 hours.
AHS is not advising patients who need an urgent scan to purchase one privately. We encourage them to work with their physician, in order to get a scan as quickly as possible.
Demand for CT scans is increasing by five per cent (and MRIs by 3.5 per cent) annually. To meet this demand now and in the future, it is imperative that action is taken now to improve access.
AHS will continue to work with physicians on appropriateness initiatives such as Choosing Wisely, and that priority is given to urgent cases.
Our action plan will focus on minimizing wait-times, decreasing costs, and better managing demand.
This will include:
Using data to better estimate where demand pressures may occur, allowing us to better allocate resources where they are most needed;

Reinvesting savings generated by cost containment, clinical appropriateness and efficiencies back into the DI budget, to improve and support sustainability;

Improving referral and booking systems across all AHS zones, particularly from community care providers.
Increasing wait-times are not due to any policy change or government direction regarding diagnostic imaging, nor has there been a change in the budgeted volumes of CT scans performed provincially.
The overall volume year to date is the same as the same period last year.
Volumes were increased last year 2018-19 on a one-time basis outside the established budget to deal with wait time pressures.
The reduction in outpatient slots in 2019/20 was replaced with increased demand from emergency and inpatients.
Planned outpatient volume this fiscal year is returning to the same volume prior to the upsurge.