Alberta Health Services facilities are open and ready to provide care to Albertans who need it
Friday, July 23, 2021 3:48 PM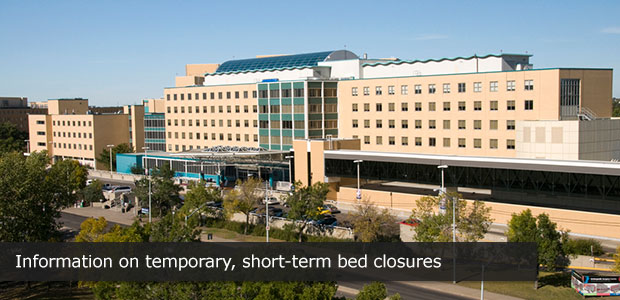 Any patient needing emergency care anywhere in Alberta, or needing an acute care bed, will receive the high quality of care you expect from AHS.
There is a safe and stable health system in place for Albertans.
AHS is currently dealing with some temporary, short-term bed closures.
However, AHS has approximately 8,500 acute care beds across the province — and currently 98.5 percent of those beds are open and available for patients.
Temporary bed closures are not unusual for AHS or any other health system, as beds are constantly managed based on patient need, staffing levels, acuity of patients and many other factors.
This has been seen often over the past 16 months of the pandemic, as AHS opened additional acute care and ICU spaces to ensure we had the ability and capacity to care for patients with COVID-19 and other illnesses.
And it is common, especially in the summer – when staffing levels are historically lower as our health care workers take more personal time or vacation – for resources to be adjusted to align with staffing levels.
The current bed closures are primarily in North Zone. These are the most challenging sites to staff, and historically they're the ones most subject to disruption. Some of these same sites, and others, have had services limited due to staffing issues in past years.
However, there is a new challenge this year – the impact of the pandemic on our staff and physicians. AHS has more individuals employed today than ever before, but people are tired.
This is an issue seen across the country. Many staff and physicians have been doing far more than their usual hours over the past 16 months. They need and deserve a break, and they're less available to work extra shifts than they would have been a year ago.
Temporary bed closures are only done as a last resort. When these closures are required, AHS aims to keep sites operating as normal, and to ensure all patients continue to receive safe, high-quality care when they need it, even if that requires getting that care at a neighbouring community.
However, most times, a bed closure has limited impact on patients and communities because, even with the closure, supply exceeds demand.
Usually, there will be still be open beds ready to accept patients. A bed may be closed but there isn't a patient in need of that bed.
This gives the staff certainty about the number of patients they will need to care for at any given period of time and allows us to reduce the pressure on the staff.
When it comes to Emergency Departments (ED), bed closures are infrequent but do happen from time to time.
AHS has about 1,200 ED care spaces across the province. Of those, 98.9 per cent are open and available.
As of July 22, there are just two sites where patients are being diverted from Emergency departments, on certain days and at certain times – Elk Point and Fort Vermilion. This is not something AHS wants to happen, but these type of situations happen every year, especially in the summer when staff and physicians need to take time off. It's not a result of a policy or resource change.
As AHS deals with these situations, it's important to know that vacancy-filling and recruitment is always a priority for AHS and takes place all year, in real time.
Once again, the COVID-19 pandemic has had an impact because of the need for redeployment of staff, and a depletion of the available pool of casual staff, as they have been assisting in Alberta's pandemic response.
This has happened in health systems across the country.
AHS always has vacant positions in our workforce. Now however we have seen a very slight year-over-year increase in our regular vacancies because of an increase in our workforce during the pandemic.
Over the last year, AHS has filled more than 1,000 vacancies for registered nurses, the vast majority of which were directly related to our COVID-19 response. There are approximately 1,700 more RNs working in AHS today than in 2019.
AHS is pursuing recruitment strategies that aim to fill existing vacancies by the end of August or September, and perhaps earlier. The redeployment of staff working on the response to the pandemic will help AHS to fill vacancies.
This all helps to ensure the healthcare system is safe – and there for those who need it.