How innovation and the evolution of digital health help AHS provide care to more Albertans
Thursday, February 9, 2023 4:38 PM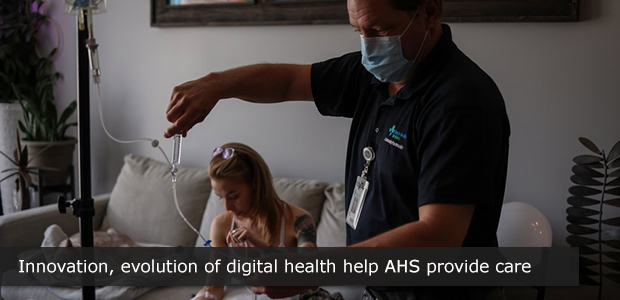 Virtual care – the use of telephone, video, email and secure messaging to connect patients with healthcare providers – has long been utilized within Alberta Health Services (AHS).
But with its rapid expansion during the COVID-19 pandemic, and its demonstrated capacity to help deliver safe, effective care to Albertans, virtual care is here to stay as a vital part of the healthcare system.
From the pandemic, we learned many lessons about virtual care, including the benefits it can provide.
For some patients, virtual care helps sidestep barriers to care such as travel time, childcare arrangements, payment for travel and parking, and lost wages. And the ability to receive care remotely can help support more regular check-ups and build the patient's relationship with their provider.
Despite concerns that groups such as seniors would not embrace virtual care, data shows that the proportion of patients aged 65 and over who are receiving virtual care is well in line with younger patients.
The pandemic also showed us there is still a place for the more humble technologies that support virtual visits. While the ability to see the patient over video chat is necessary in some circumstances, telephone visits comprise roughly 70 per cent of all virtual visits.
When the patient is able to receive the same quality of assessment and care, the telephone offers patients a simple, familiar connection that does not use large amounts of data or bandwidth.
Understandably, a common concern among physicians was that they could miss something they would otherwise be able to observe face-to-face. However, measures guiding virtual visits help mitigate the risk. These include identifying the best circumstances for virtual care use, such as follow-up visits with well-known patients.
Remote care was a huge factor in helping many providers avoid the risks associated with physical contact during earlier stages of the pandemic. It also enabled creative options in places with shortages of healthcare workers, or where providers were forced to isolate due to close contact.
Underlying these learnings is the understanding that virtual care, while the best option for certain patient populations and circumstances, will not replace in-person care.
As we look to the future, careful evaluation of patient outcomes, clinical appropriateness and a broader understanding of the societal benefits of virtual care will help us determine where to invest for the next phase of this journey.
Emphasizing evaluation and outcomes will give us a better understanding of considerations such as virtual care's ability to reduce unneeded Emergency Department visits, hospitalizations for those with chronic diseases, or readmissions to those receiving care from home hospitals.
Initiatives that aim to serve these outcomes are already underway. One is the Virtual MD program, which connects Health Link callers directly to a physician and sets them up for a virtual appointment.

In the first eight months of the program, over 10,000 patients were assessed by a Virtual MD, and at least 3,000 unnecessary visits to urgent or emergency care centres were avoided.
Additionally, home hospital programs such as Calgary's Complex Care Hub and Edmonton's Virtual Hospital support capacity within our healthcare system, while helping patients stay connected to their communities.
We must also continue to ask ourselves what appropriate virtual care is and then stay within those boundaries.
Virtual care is not intended to be a panacea of all care. This means we are looking closely at concepts such as 'hybrid care,' where virtual care and in-person care complement each other, allowing the patient to benefit from both types of visits.
Looking at virtual care through a system lens also helps guide next steps. Outside of the immediate conveniences for patient and provider, we should consider the broader and longer-term impacts of virtual care.
Asking how we can use virtual care to help prevent unnecessary patient transfers, allow patients to stay in their home communities while receiving care, and connect those in rural areas to specialists are some of the key ways that we make virtual care sustainable.
It can also help patients be more actively involved in their own care.
We are already seeing this in the expansion of MyAHS Connect, a system that gives patients greater access to their own health records and consistent, integrated health information.
The past few years have demonstrated the relevance of digital health and carved out new pathways for us to modernize the way we deliver care to Albertans.
While virtual care will not replace in-person care, we must take advantage of this incredible tool to help bridge gaps, promote health equity and access, and provide high-quality, patient-centred care.
This op ed was written by Dr. Jonathan Choy, AHS' Senior Medical Director of Virtual Care, Access, and Navigation