Update on EMS offload
Tuesday, March 7, 2023 4:22 PM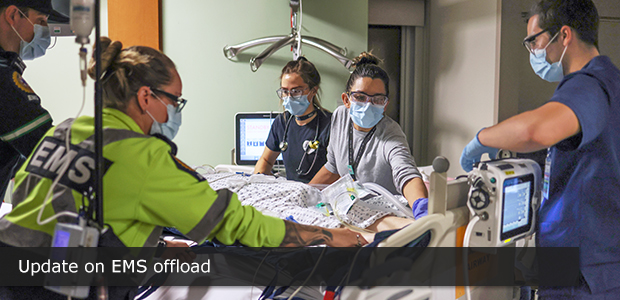 We are providing information today on work underway to reduce the amount of time Emergency Medical Services (EMS) teams are waiting with patients in emergency departments.
Recently there was an email circulating in the media regarding the 45-minute EMS offload target that appears to have originated from one of our sites.
This email contained inaccuracies and does not reflect the plans underway.
The Canadian standard for what's known as EMS offload is 45 minutes. This 45-minute Canadian Standard is a target and will become the AHS standard as well. Having patients safely handed over to emergency department teams will reduce waiting time for EMS teams to help get ambulances and paramedics back into communities to be better able to respond to emergencies. Forty-five minutes is a target we will strive to achieve as we also continue to protect patient safety.
We want to emphasize that this is a target. No patients will be left in emergency departments by EMS staff without appropriate handover to emergency department teams.
AHS is putting in place several supports to ensure that there are appropriate staff, equipment and spaces to take care of patients brought in by EMS. Supports include hiring of staff, acquiring equipment and ensuring appropriate care spaces are available.
AHS clinical teams and EMS are collaborating to put plans in place to support safely transferring patients to care teams at the sites. This transition will occur over several weeks beginning on March 15, 2023. The transition will be monitored to adjust processes in real time, supporting the ongoing care of patients and staff providing the care.
AHS is putting additional support in place within the busiest EDs across the province. This includes adding 114 full time equivalent nursing positions to ED teams across the province to ensure the transfer of responsibility for patient care from paramedics to ED staff is efficient and effective. We are also hiring 127 full time equivalent allied health staff across the province including social workers, physiotherapists and occupational therapists, pharmacists and geriatric resources to support ED patient flow.
We know that teams of staff, physicians and volunteers are working hard to provide compassionate, high-quality care to all patients. Work is underway to support efficient patient movement through EDs, on to acute care and through to safe discharge and community care.
We remain focused on our four priorities: improving EMS response times, decreasing emergency department wait times, improving patient flow throughout the healthcare continuum, and reducing wait times for surgeries.