Providing safe obstetrical care in Lethbridge
Friday, April 28, 2023 10:47 AM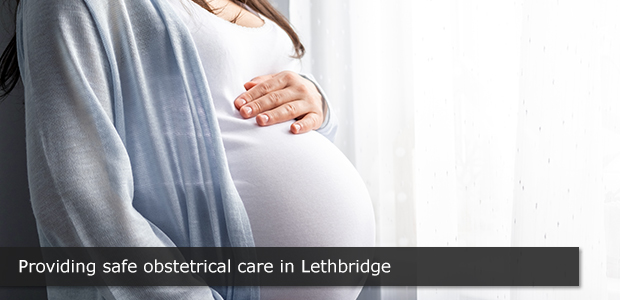 We want to reassure you that women continue to receive safe obstetrical care in Lethbridge and area.
For a variety of reasons, a number of obstetrics and gynecology (OBGYN) physicians are no longer available to work or have left the City of Lethbridge over the last year. Recently, there has been concern raised in the community about the number of obstetricians and the capacity for quality OBGYN care at Chinook Regional Hospital (CRH).
Lethbridge currently has three permanent OBGYNs on staff at CRH, with two on leave who are expected to return later this year. At this time, there are 14 family physicians from both the city and the zone who help with on-call and low-risk delivery in Lethbridge. We are also working to recruit family physicians with an interest in obstetrics.
As has been previous practice, we will continue to bring in locum OBGYN physicians to ensure appropriate on-call coverage for obstetrical and emergency gynecology patients. Further, every effort is being made to recruit additional OBGYN care to support the community and surrounding area. Women's health remains a top priority and we are not taking this physician shortage lightly.
We are grateful for the dedicated family physicians, obstetricians and locums who have stepped up to assist, the gaps in coverage and provide high quality patient care.
As part of our multifaceted approach to support obstetrical patients, AHS established a physician led prenatal clinic at CRH. If you are pregnant and need prenatal care, please contact your family physician. If you do not have a family physician, please call the hospital at 403-388-6111 and ask for the prenatal clinic. We are continually looking at ways to enhance the clinic and better serve our patients utilizing its services, and are working diligently to build a sustainable, long-term prenatal program.
We are also receiving excellent support from our local midwives. Families under the care of a registered midwife have the option to give birth at home, at a birth centre, or in a hospital where the midwife has clinical privileges. There are seven registered midwives with clinical privileges at CRH.
We know this situation has been stressful for many families. With the help of locums, family doctors and midwives, we will continue to provide safe care for all expecting mothers. Thank you for your patience as we work through our recruitment processes to add to our obstetrical team.
Dr. Aaron Low, South Zone Medical Director
Dr. Gerry Prince, Associate Zone Medical Director