Improving Access to Community Lab Services
Friday, April 28, 2023 11:14 AM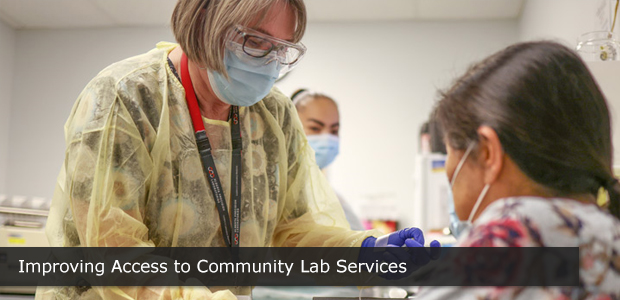 Alberta Health Services (AHS), along with Alberta Precision Laboratories (APL) and DynaLIFE, are working together to address concerns about wait times and quality of community lab services in the Calgary Zone.
DynaLIFE, with support from AHS and APL, is taking action including actively recruiting additional staff and bringing in staff from other areas of the province and country to help in communities of high demand.
As challenges are being addressed, patients are being reminded of the options available for accessing services and appointments.
This includes scheduling appointments using the new tool, Q.Me and using the "Save my Place" booking feature which allows for same day appointments. This feature does not require patients to be present at the site or wait at the site to enter the queue. They will be notified and updated on the status of their appointment time.
Currently there are additional options for patients who need to access certain time-sensitive tests, oncology, transplant, and in some cases, maternity patients, can be booked in a shorter time by calling the Appointment Booking Line at 1-877-702-4486, and having one of DynaLIFE's patient booking representatives assist with making an appointment. These short-notice appointments will only apply to patients meeting certain testing criteria.
Calling the Appointment Booking Line at 1-877-702-4486 allows patients to speak with call centre staff that can assist. Providing additional information such as where the requisition came from, what types of testing, and when the blood work needs to be completed can help staff find the best location to ensure blood work is completed in a timely manner.
Some other improvements include:
Expanding operations throughout several key locations across Calgary, Airdrie, Cochrane, and Okotoks and adding weekend service at existing locations, as well as creating new temporary locations to address wait times.
New appointments are being added daily, with a total of 1,450 new appointments becoming available this week.
The addition of two phlebotomy stations at both the Beddington and Riverbend labs.
Expansion of appointment availability at the North Hill location to add 25 per cent additional appointments daily.
An additional 125 appointments per day have been added at Sloan Square.
Riverbend and Airdrie locations have added an additional 250 appointments on Saturdays.
Next week, the Market Mall location expansion will begin accommodating an additional 200 patients per day.
Permanent expansions of hours will take place at the Airdrie, Avenida, Cochrane, Glenbrook, McKnight, and Riverbend locations in June, adding an additional 150 appointments per day at each location.
New clinics in NE and NW Calgary will open, offering 180 appointments daily at each location.
Renovations are expected to be completed at the Airdrie location in July, expanding patient spaces to provide a 30 per cent increase in space at that clinic.
Call centre staff will work with the patient to try to meet as many of their requirements for an appointment as possible, suggesting alternate locations, dates or times.
Improvements will continue in the coming months where hours will be expanded and additional spaces will be added in Airdrie; hours will be expanded at more Calgary clinics, as well as Okotoks and Cochrane, and two new clinics will open in Calgary.