From Heart Failure to Heart Transplant
Tuesday, February 9, 2016 10:16 AM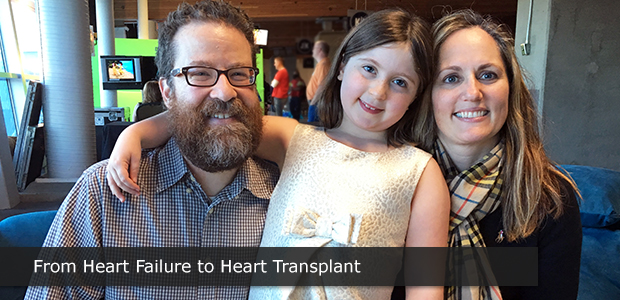 My son Dave just celebrated the 20th anniversary of his heart transplant. He was diagnosed with heart failure at the age of 20 and within months, required a heart transplant. Today, Dave is 42 and has now lived fully half his life with his second heart.

The journey to Dave's transplant began silently. The likely cause was a virus that invaded his heart and gradually destroyed it. In the fall of 1993, shortly after Dave began studying at the University of Calgary, I started to feel something was wrong; his colour was off and he seemed tired. This was followed by trips to the doctor and hospital emergency departments.

Our family doctor was away on vacation so a stand-in initially saw Dave. His symptoms did not alarm them and he told Dave to smarten up and get some rest. Despite this, I knew something was wrong. The challenge was to get someone to truly hear my concern.
This journey taught me the importance of awareness. February is Heart Month and it's important to raise awareness about heart failure and other heart conditions, their signs and symptoms.

The most important thing to remember: Do not ignore your instincts! Don't give up when you know something is wrong and seek help until you get it. When you are well informed you can be an effective advocate.  It's not routine for healthcare professionals to see serious heart conditions like heart failure in young people. Heart failure can be difficult to diagnose because often there are no significant symptoms at first, but a chest X-ray can help catch it or rule it out. Dave didn't receive one until he experienced chest pain six months after his first symptoms were noticed. By then, his heart was greatly enlarged and its functioning was poor.

Recently, the Heart and Stroke Foundation released its 2016 Report on the Health of Canadians called The Burden of Heart Failure. This is an important document. The final page of the report provides excellent guidance for improving the lives of heart failure patients.
A heart transplant is not a cure for heart failure and there are many health challenges Dave still faces including infections, skin cancers and clogging of arteries in his new heart. He requires ongoing medical monitoring and specialized care through the Southern Alberta Transplant Program.

For now, life is good. Dave and his wife, Marcie, enjoy life with their eight year old daughter Laura. He is the music teacher at Nickle School in Calgary where he teaches grades five to nine. In addition to their full-time jobs, Dave and Marcie are active volunteers with Red Cross Disaster Services.
What are you doing to improve or maintain your heart health?