For Lowell Taylor, brokenness has become strength
Monday, February 26, 2018 11:22 AM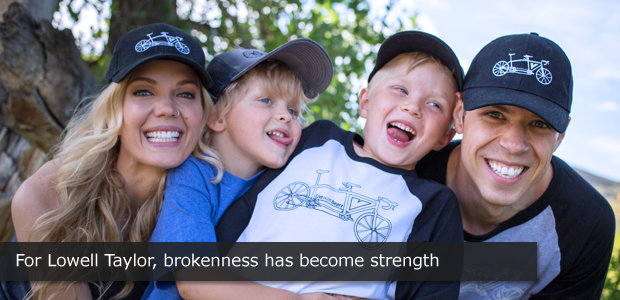 I am broken.
This is a statement of strength. My brokenness makes me unique and when I share it with others, it helps me to connect with them more deeply. My brokenness enables my dream to compete in Tokyo at the 2020 Paralympic Games as a road and track cyclist. It's also a large part of why my wife Julie and I were cast on The Amazing Race Canada Season 4. I am continually learning how to turn the huge obstacles experienced along life's path into opportunities – through a positive mindset, strong supports, and finding wellness in mind, body, and soul.
I used to see my brokenness as weakness, as something to be ashamed of. As a kid I was bullied due to it. More damage was done when I bullied myself. I believed that I was useless and that that the future held no hope for a blind, overweight, lonely, smelly kid. The voice of the bully inside was loud.
I was born with a genetic eye disease called Retinitis Pigmentosa. Before I could talk I was low-light blind and my peripheral vision has been progressively disappearing my entire life - leading to a feeling of perpetual loss. I now see through a pinhole - which gets smaller every year and one day that tunnel of light will be completely gone.
When I was three, I was run over by a station wagon - the car tire went over my abdomen and pinched nerves in my bowels which led to years of compromised bowel control. This in turn led to many stinky, shattering moments throughout my childhood.
My search for wellness started as a child, and will continue until my last breath. What I have learned overcoming obstacles is that it's easier to act your way into thinking differently than it is to think your way into acting differently.
For me, wellness is broken down into five focused areas that I need to find balance:
• Physical: taking care of the body with proper nutrition, exercise, sleep, and relaxation.
• Social: establishing and maintaining healthy relationships and accessing supports. Mental: challenging the mind by learning new things and how to get unstuck from unhelpful thinking patterns.
• Emotional: learning what activities 'fill the tank' in order to have fun, enjoy life, and create a sense of contentment.
• Spiritual: connecting to a deeper meaning and purpose, of connecting to something bigger than the worries of today and by practicing gratitude for each moment and expressing loving kindness to others.
Sport has become a huge motivator, and has rewarded me with so many healthy gifts. I have a vision for 2020 - to compete in the Paralympic Games. We all need something to pour ourselves into. Dream big and find your meaningful something! And, if the path is challenging, know that those struggles offer us a chance for growth and new opportunities.
I now see my brokenness as beautiful, unique and a gift. With courage, I have pushed through the fear and tried new things. I've learned that I am resilient, stronger than the doubt that may surface, and that mindset is key.
And, accepting my brokenness, has enabled me to race around the world with my wife Julie on The Amazing Race Canada, become a Psychologist to help others get through their deepest lows, compete for Canada in elite para-sport, and become a motivational speaking duo with Julie.
Overall, my brokenness is my strength. It has taught me that living a meaningful life is not determined by whether or not you face obstacles, but by your reaction to them.
Follow our journey to Tokyo 2020 Paralympics or connect with us on Facebook, Twitter, or Instagram: @JulieLowellCAN.

Join the conversation, and be inspired to think about your wellness!
Share what balance looks like to you, using #AHSwhatsyourbalance on social media. Or visit www.ahs.ca/whatsyourbalance to download the Wellness Scorecard to get started on your path to finding balance.

Disclaimer: Please note the 'What' your balance?' blog posts are views of the authors only, and should not be considered as formal advice and instruction. Readers should consult with appropriate health professionals or dial 811 for Health Link on any matter related to their health and wellbeing.