Balance Beyond the Beam
Thursday, January 25, 2018 9:22 AM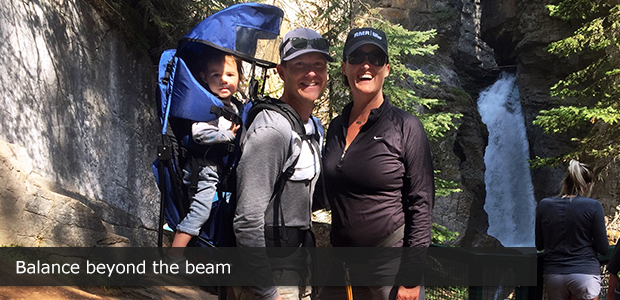 Balance. For me, it's about setting my priorities, because there are so many distractions. I'm a busy person. I'm involved in a lot of things.
I've got a business and a family and lots of personal goals as well. It's about really setting those priorities and trying to keep them as minimal as possible.
First and foremost, I need to spend time with my family. I need to get my daily dose of my dog and taking him for a walk with my daughter.
Also, it's about exercise. If I don't move my body, everybody around me can feel it. I may deny that I need it, but it's something that's a daily requirement — whether it's 30 minutes or an hour-and-a-half to move my body, every single day.

It's the easiest thing to let go when things are busy, but I've made it the one thing that has to get that done.
It's shifting the perspective, and that's how I think I achieve balance in my life. I just continually shift those perspectives, and I circle back to the priority - it's like a meditation. As your day starts to get crazy, it's like, `Okay. What's really important to me?' And my two big priorities are my family and being active."

Join the conversation, and be inspired to think about your wellness!
Share what balance looks like to you, using #AHSwhatsyourbalance on social media. Or visit www.ahs.ca/whatsyourbalance to download the Wellness Scorecard to get started on your path to finding balance.
Please note the 'What' your balance?' blog posts are views of the authors only, and should not be considered as formal advice and instruction. Readers should consult with appropriate health professionals or dial 811 for Health Link on any matter related to their health and wellbeing.