Operational benchmarking
Wednesday, February 11, 2015 1:39 PM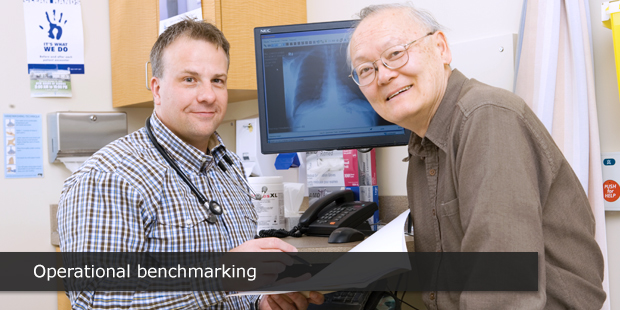 Alberta Health Services' first priority – always – is to ensure we provide the very best treatment and care to Albertans.
But, that is not enough. We must also ensure that we run the best health care system possible, as efficiently and effectively as we can.
We are well aware that health care accounts for a significant portion of the provincial budget (30 per cent of the province's operating budget). We must make sure that every penny spent directly benefits patient care, whether it be on the system's front lines, or through administration that allows those front lines to work effectively.
In late January, AHS announced several several steps that are being taken to contain costs and to ensure that we are being responsible stewards of public dollars in a time of financial uncertainty.
The province is facing a potential multibillion-dollar deficit due to falling oil prices. Government is taking steps to reduce expenses and so must AHS. You can find more about those measures here: http://www.albertahealthservices.ca/Blogs/BTH/Posting246.aspx#.VNuRy-bF-LI
As part of this work, we are undertaking an operational efficiency benchmarking process at 15 of our acute care sites.
Operational benchmarking is not the same as our performance benchmarking. Performance benchmarking looks at our performance in key areas such as wait times for surgical, diagnostic, cancer treatment and emergency services and for quality initiatives such as rates of infection and hospital mortality rates related to other health care organizations in Canada.
That work is important, and provides us with a snap-shot as to how our health system is performing compared to the rest of Canada. The 16 performance measures also show us where we are doing well, and where we need to do better.
This work is highlighted in our annual performance measures, which are publicly available and can be viewed here: http://www.albertahealthservices.ca/performance.asp
Operational benchmarking, on the other hand, compares the costs, expenses and productivity of a specific hospital unit to the costs and expenses of other similar units at similar hospitals. The intent is to see if there are ways we can provide services more efficiently without adversely affecting quality of care.
It is not about reducing services, quality or outcomes. It also is not about making people work harder or reducing the quality of our work life. It is about asking how we compare with our peers and whether there are opportunities to operate more efficiently.
AHS has hired a consultant, Health Care Management (HCM), at a cost of $90,000 to assist us in this benchmarking. This contract was awarded through an open and transparent Request for Proposals process.
The benchmarking methodology and analysis work began in early February, with the creation of an oversight committee that includes executive, zone, clinical leadership and finance, and representation from Covenant Health. The oversight committee will be co-chaired by an Operations and a Corporate representative, who will be selected shortly.
In addition to the Oversight Group, we will set up a process to review preliminary information and discuss findings with individual acute care sites participating in the review.
The hospitals included in this benchmarking include: Chinook Regional Hospital; Medicine Hat Regional Hospital; Foothills Medical Centre; Rockyview General Hospital; Peter Lougheed Centre; South Health Campus; Alberta Children's Hospital; Red Deer Regional Hospital; University of Alberta Hospital; Royal Alexandra Hospital; Grey Nuns Community Hospital; Misericordia Community Hospital; Sturgeon Community Hospital; Queen Elizabeth II Hospital; and Northern Lights Regional Health Centre.
The project will later expand to AHS corporate areas.
The consultants, in collaboration with AHS staff and physicians and with the leadership of the oversight committee, will review AHS Management Information System (MIS) data and compare financial, activity, efficiency and productivity information.
We plan to move quickly so that any actions to be taken will inform our 2015/16 budget. The benchmarking will also guide future planning and will determine what work we need to do to improve our data to further build on this type of work.
This work will ensure that we continue to provide excellent health care to Albertans, as efficiently and effectively as possible.