Fertility clinic will continue to offer insured health services to those who need them
Friday, November 3, 2017 12:50 PM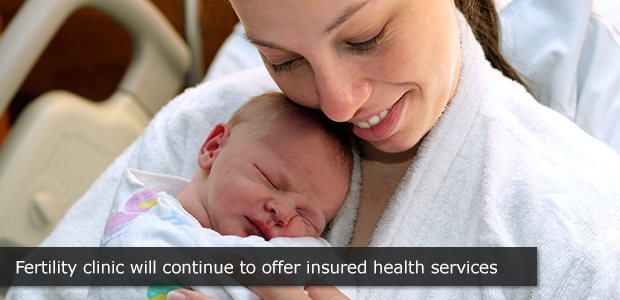 Alberta Health Services understands the importance of fertility treatments such as in vitro fertilization and other assisted reproductive technologies – for some, such services provide the only chance at having a family.
Our physicians and staff at the Lois Hole Hospital for Women's Regional Fertility and Women's Endocrine Clinic have played a vital role in providing that opportunity to many. We are proud of the care and support they have provided to help give people the miracle of a child.
To those who have benefited from the care provided at the clinic, we know this place is special to you and we understand your concerns regarding service changes that are currently being implemented.
Our most important message to you is that we get it. We would like to reassure all of our patients and clients that the Regional Fertility and Women's Endocrine Clinic will remain open – it is not closing.
And, we want people to know that we are there for them – some of our current clients will continue to receive these services at the clinic in the short-term, and we will do all we can to help others transition to another fertility clinic in either Edmonton, Calgary or even outside of Alberta.
However, beginning in February 2018, the clinic will no longer be offering non-insured fertility services.
AHS is a publicly-funded healthcare organization, tasked with providing publicly-funded healthcare services to Albertans across the province. We understand that these non-insured fertility services are hugely important and we will be sure to connect any individual seeking those services to a quality facility and team.
Our focus must be on publicly-funded services – Albertans expect us to use their taxpayer dollars in the most responsible way. Providing insured-only services will allow AHS to be more responsive to the needs of our patients accessing publicly-funded healthcare services and allow us to expand other much needed clinics at this site and location utilizing the knowledge and expertise of our skilled providers.
The Regional Fertility Clinic is the only fertility clinic in the province run through a public facility. Most other fertility clinics in Canada are privately operated – including a private clinic in Edmonton, which opened in July 2016.
Demand for non-insured services at the Fertility Clinic has decreased by 28 per cent in the past year.
Discontinuing non-insured fertility services at the Lois Hole Hospital for Women will increase space and resources for high risk, pressure areas within the Women's Health program including cancer screening, diagnostics and treatment related to cancer, the reproductive mental health and bereavement outpatient program, outpatient procedures and high risk pregnancy care.
And, it will allow us to put all public funds into publicly-funded and insured services, which we believe will reduce wait-times and improve services.
Given the significant patient demand for insured fertility services, it has become increasingly challenging for AHS to contribute public resources, such as space and equipment, for privately funded non-insured services, especially as wait lists for publicly funded services continue to grow and the need for new services expands.
AHS recovers costs for non-insured services at the Fertility Clinic through a cost-recovery mode; however, overhead costs (equipment, rent, heat, electricity, internet, etc.) are subsidized by AHS through facility and operational budgets.
We know this will be challenging to our clients, and our physicians and staff. Our immediate focus is to support patients and staff during this period of change and to reassure patients we are acting with forethought and mindfulness in their continued care and access to fertility services.
We will attempt to minimize disruption as much as possible and will work with each patient to develop individual transition plans. Discontinuation of non-insured fertility services at the LHHW Fertility Clinic does not present any risk to patient care or access to services.
It is also important to note that there will be no employment loss as a result of this transition. It is our desire to retain and support our skilled and knowledgeable workforce - all impacted staff will be supported to maintain positions within AHS, primarily within the Women's Health program/Royal Alexandra Hospital.
Individual preferences and circumstances, and collective agreements will assist in defining appropriate transition plans for each employee.