Walking regularly for mind, body and spirit
Thursday, December 4, 2014 4:49 PM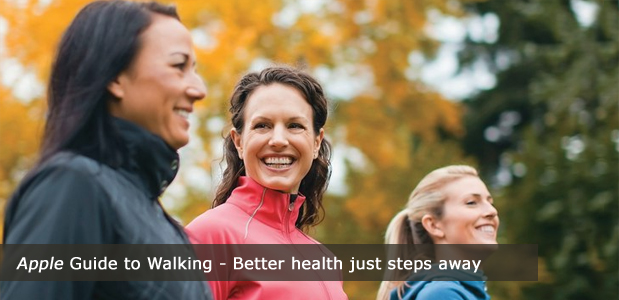 At Apple, we mark each season with a new edition of our magazine. The Fall 2014 issue is now out, just as autumn adds touches of gold, red and orange to the province.
The cover story is Our Guide to Walking by Anne Georg. Walking regularly is quite simply one of the best these you can do for mind, body and spirit.
Some seven years ago, after the release of my book Calgary's Park and Pathways, A City's Treasures, a friend asked if I'd walk with her through Fish Creek Provincial Park every week that summer. Another friend soon joined us and by the end of October we had explored several other parks too.
Our Wednesday Walking Nights are now an entrenched tradition. We walk when it's -30° C and +30° C, raining, snowing, foggy, windy and sunny. We soldier on past blisters, aching arches, thirst and not knowing if we'll find a washroom after an hour out. We wouldn't give up walking for anything.
Walking is more than putting one foot in front of the next to get somewhere. For me, it's been a way to solidify friendships, continue to discover Calgary's landscape and set aside 90 glorious minutes a week to feel the weather on my face.
Apple's seven-page article looks at the benefits (and pleasures) of walking all year long, how to walk in heat, cold, ice, rain and other conditions and recommends 10 great place to walk in Alberta (I tried the Glenbow Ranch Provincial Park just last weekend). We hope you'll be inspired to walk more often with your friends.
What are some of your favourite places to walk in Alberta?