Hosting a healthy holiday gathering
Friday, December 19, 2014 2:23 PM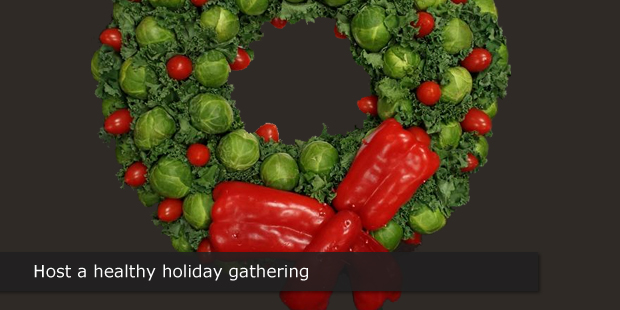 This time of year you may find yourself hosting a few holiday gatherings. It may be the traditional family dinner, drop-in visitors or maybe you just love to host a party! Whatever the case most of these get-togethers involve holiday favorites that can be higher is calories, fat and sugar. With a little planning you can provide a healthier holiday spread without breaking tradition. Here are some tips for hosting a festive holiday gathering both you and your guests will enjoy.
Appetizers
It's easy to eat a full meal's worth of calories from appetizers alone. Offer just a few of the favorites and try one of these yummy appetizers that can be made ahead of time: vegetable samosas, herbed yogurt and goat cheese spread. 
Be the hostess with the healthiest dishes
Do yourself and your guests a favour by making a few healthy changes to your holiday dinner table:
Reduce the amount of fat, salt and sugar. 
Offer fewer choices and make enough to last the holiday, not longer. The more variety there is the more we tend to eat.  Stick to a few favorites.
Guest's will thank you with these tasty twists on mashed potatoes and stuffing, such as maple mashed potatoes with turnip.
Offer up healthy drinks
Drinks can contribute a lot of extra calories. 1 cup (250 mL) of eggnog has about 235-350 calories and about 6 tsp of sugar. Provide lower calorie drinks such as sparkling water with a slice of orange, cucumber or berries, light eggnog mixed with skim milk and a pinch of nutmeg. Offer coffee, teas or herbal teas with 1% milk or use flavored coffee beans instead of adding creamers.  If offering alcohol beverages, try a wine spritzer (½ wine and ½ club soda).
Set up a healthy environment
Position the food area away from the main socializing area if possible. That way guests can put a few food items on their plate and then walk away from the food table to visit. The longer you stand next to the food, the more you will likely eat. To keep portions smaller, use small serving plates and serve sweet bars, squares or cookies in bite size (1-1 ½ inch) pieces.
Enjoy the holiday season and keep the focus on spending time with family and friends rather than the food.
 
Herbed Yogurt and Goat Cheese Spread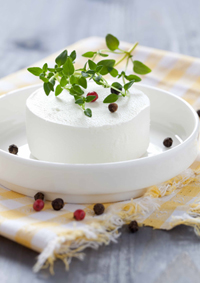 Choose and prepare healthy food! By making your own cheese spread, you can control the amount of fat and salt that you add, as well as the quality of the ingredients.
Ingredients:
8 oz Reduced fat soft goat cheese, 21 % M.F. or less (355 mL)
1 cup Plain 1% M.F. yogurt (250 mL)
1 Garlic clove, grated or finely crushed (1)
¼ cup Fresh basil leaves (60 mL)
¼ cup Fresh parsley leaves (60 mL)
2 Tbsp Fresh chives, chopped (30 mL)
1 tsp Fresh thyme, leaves pulled from the stems (5 mL)
1 tsp Fresh rosemary, chopped (5 mL)
2 Tbsp Extra-virgin olive oil (30 mL)
¼ tsp Sea salt (1 mL)
¼ tsp Freshly ground pepper (1 mL)
Directions:
In a medium bowl, or food processor, blend the goat cheese, yogurt and garlic (if using) until smooth.
Add the fresh herbs and stir or pulse until well blended, making it as smooth or chunky as you like; drizzle in half the olive oil. Add the salt and pepper.
Add more yogurt, a squeeze of lemon or a few spoonfuls of water if the mixture is too thick.
Transfer to a bowl and drizzle with the remaining olive oil. Makes 10 servings (approximately 45 mL / 3 Tbsp / 50 g)
Source: developed by Julie van Rosendaal for Apple, Alberta Health Services' health and wellness magazine.
 
Salad Rolls with Peanut Sauce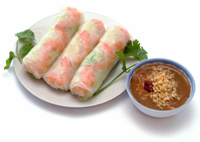 Looking for a different appetizer or snack? These salad rolls are a fresh alternative to deep fried spring rolls and are quick and easy to prepare with ingredients that can be found at most grocery stores.
Ingredients:
For the peanut sauce:
½ cup Rice vinegar (125 mL)
½ cup Water (125 mL)
7 Tbsp Peanut butter (105 mL)
½ cup Hoisin sauce (125 mL)
1 Tbsp Chili sauce (15 mL)
For the wraps:
½ package Rice vermicelli noodles (200 g)
1 package Dried rice papers (24 wraps)
4 leaves Iceberg lettuce, shredded (4 leaves)
2 cups Cooked chicken or shrimp, chopped (500 mL)
1 medium Carrot, peeled and cut into strips (1 medium)
1 medium Cucumber, peeled and cut into strips (1 medium)
½ cup Fresh cilantro or mint leaves (125 mL)
For the peanut sauce:
In a small saucepan, heat vinegar, water and peanut butter.
Stir until blended. Do not boil.
Stir in hoisin and chili sauce. Remove from heat and set aside.
For the salad rolls:
In a medium pot, bring 6 cups of water to boil.
Break rice noodles into pieces and cook in boiling water until soft (about 3 minutes). Put cooked noodles in cold water to cool, then drain and set aside.
Dip dried rice wrappers in very warm water (2−3 at the time) to soften.
Place softened rice wrappers on work surface. Place remaining ingredients in centre of wrap.
Roll each of the rice wrappers into a tight bundle to form a cylindrical shape. Arrange on a serving tray and serve with peanut sauce.
Makes 12 servings (2 rolls + 3 Tbsp / 45 mL sauce / 161 g)
 
Vegetable Samosas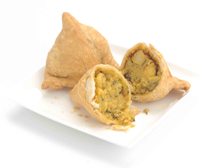 Restaurant versions of this Indian dish are often deep fried and high in salt. This homemade version is baked to limit the amount of added fat. Alberta Health Services recommends preparing your own food at home to control the amount of salt you eat.
Ingredients:
For the dough:
1 ½ cups All purpose flour (375 mL)
4 tsp Butter or ghee (20 mL)
½ tsp Salt (2 mL)
6 Tbsp Water (enough to make firm dough – adjust water as necessary) (90 mL)
For the filling:
2 ½ cups Potatoes, peeled and diced small (625 mL)
1 cup Frozen peas (250 mL)
3 Tbsp Canola oil (45 mL)
½ tsp Cumin seeds (2 mL)
1 inch square Ginger root, peeled and grated (1 piece)
½ tsp Salt (2 mL)
1 tsp Ground coriander (5 mL)
½ tsp Ground turmeric (2 mL)
½ tsp Chili powder (2 mL)
1 tsp Dried mango powder (5 mL)
1 Green chili, de-seeded and finely chopped (1)
Directions:
For the dough:
Rub butter or gee into flour until the mixture is crumbly.
Add salt and water to make a firm but pliable dough.
Cover the dough and let rest for at least 30 minutes.
For the filling:
Cook potatoes in a pot of boiling water for 5 minutes.
Add peas and cook for another 5 minutes. Drain well.
Heat oil in a skillet and sauté the ginger and all the spices.
Add peas, potatoes and diced chili.
Cook for one minute; set aside.
To assemble:
Preheat oven to 400˚F (200˚C). Lightly spray a baking sheet with non-stick cooking spray. Set aside.
Divide pastry into 12 pieces. Roll out each piece into a thin circle and cut each circle in half.
Put a spoonful of filling into each half and roll into a cone.
Press the edges firmly to seal.
Place samosas onto prepared baking sheet. Brush top with vegetable oil.
Bake in a 400˚F (200˚C) oven for 20−25 minutes or until golden.
Serve warm or cold as an appetizer or snack.
Makes 12 samosas; 6 servings (2 samosas / 158 g)