Serving by understanding spiritual beliefs
Monday, January 12, 2015 1:42 PM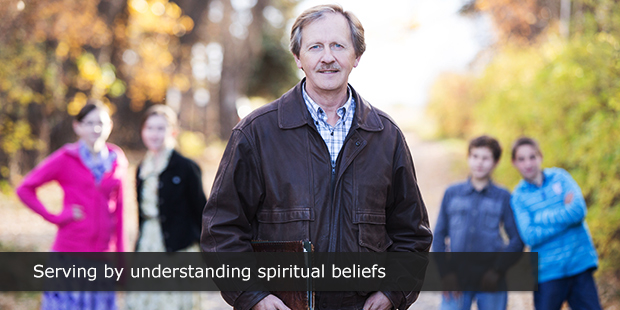 Albertans often take their schools and health care for granted, but sometimes new Canadians are bowled over by our systems. If you are a recent immigrant to Canada, what could be done to ease your transition? For 20,000 Low German-Speaking Mennonites (LGM) living in Alberta, access to people in the system who speak their language and understand their culture has been key.
Imagine uprooting your family to a new country, where customs and language are different and the way of life feels intimidating. Your religion is poorly understood, your kids have to attend school (but they've never been before) and there's a great health care system - that you have no idea how to access.
These are the sorts of cultural shifts LGM people face daily. Sometimes called Mexican or Kanadier Mennonites, they must adapt to an overwhelming array of government and social services. It can feel so overpowering that families will isolate themselves. That's where I come in.
LGM people first came to the prairies from Russia in the late 1800s. But in 1922 when governments made it mandatory for children to go to school, about 8,000 LGM people left for Mexico, where they were promised more freedom. In recent years, a shortage of farmland, drought, and conflict in Mexico saw them venture back to Canada.
I was raised in a Mennonite home and speak Low German, so I have an insider's understanding of LGM culture. As the LGM liaison officer for Horizon School Division, I quickly saw how effectively doors opened with removal of the language barrier. And I often have opportunities to help people navigate the health-care system, which I believe is vitally important work.
LGM people are used to the Mexican system, which offers high-quality but expensive care they can't afford. They use home remedies and get access to prescription drugs without a prescription – drugs not always safe for them and often past their expiry dates. The concept of no-cost preventive care is a foreign one, but they're more apt to buy in when introductions are made by someone who meets them on their own turf.
That bridge can also mean – over time – reduced rates of depression and addiction to illegal drugs and alcohol. The number of LGM people with addictions is far too high, and many of the women suffer from depression because of low literacy, isolation, financial stresses and other pressures.
The good news is that others have joined me in doing this work. Health-care liaison workers are in place now who speak Low German and they're making great inroads, but the need is still great – and growing. A continuing influx of LGM people are arriving in the South Zone and education - including English and health classes for the adults - remains this group's most pressing need.
Indeed, it is the key to everything.
Are you a new or recent immigrant to Alberta? What resources would you like to see to help you better navigate your health care system?