Community Paramedics - Bringing the right care at the right time in the right place
Thursday, January 15, 2015 4:04 PM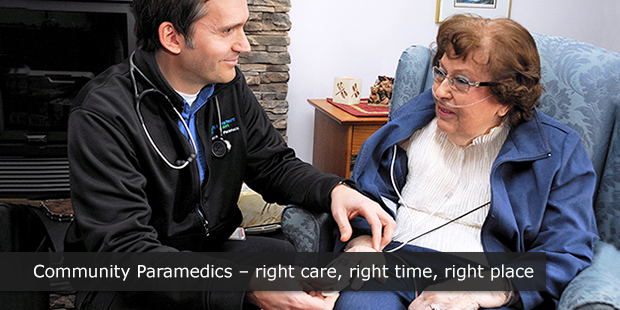 The thing I liked best when I worked as a paramedic on the ambulance was being at the right place at the right time to help patients. A good example of this is a common 911 call for someone having difficulty breathing.
Paramedics are sent to these all of the time. It can be a terrifying experience for people who realize they're sick but there's no time to get to the doctors and nurses who can help. When paramedics show up, we take a lot of that stress away because we're equipped to help immediately as we bring patients to hospital and the care they need.
But as I saw more and more patients after they called 911, I recognized that some of them didn't just "suddenly" have difficulty breathing. It likely took awhile to get to that. I realized that to really help these patients, to be there at the right time and place, I needed to be called earlier. It looked to me that some of them found their way into my ambulance, needing emergency care, because they couldn't get to the right care when their trouble was first beginning.
Frailty, poor mobility, confusion, and chronic disease keep patients from their doctors and nurses and redirect them to ambulances and emergency departments. I was fortunate to be selected and trained as one of the first ten Community Paramedics in Calgary in 2012 to deliver needed primary and specialty care to these vulnerable patients before they have emergencies that require a trip with my colleagues to the emergency department.
Today I saw one of those patients who is most at risk to "suddenly" have difficulty breathing. A woman with COPD, a chronic disease of the lungs that makes breathing difficult at the best of times, came down with a cough that could have led to an emergency if left untreated. She was too sick to get to her doctor so her physician called our Community Paramedic program and I brought her doctor's care to her. I had the right medications, an antibiotic and steroid, to add to her care to prevent her COPD from turning that cough into a 911 call for a breathing emergency. It's what I still enjoy most about being a paramedic; bringing the right care, at the right time...and now I can do it in the right place before an emergency begins and results in a trip to the ER.
For more information about the Calgary Zone Community Paramedic Program please visit our website at http://www.albertahealthservices.ca/9571.asp
How do you think the Community Paramedics Program could make a difference in your community?