Tips for Staying Active This Winter
Tuesday, January 20, 2015 3:10 PM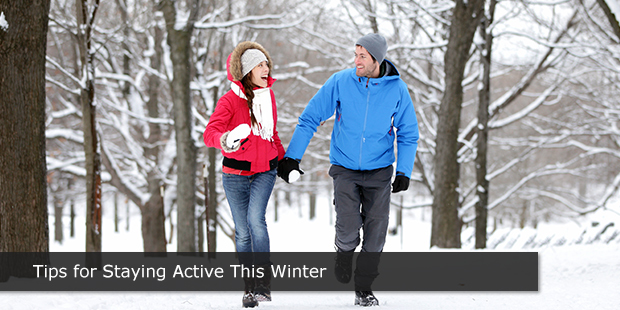 You arrive at home after a lengthy day at work and are exhausted¬ – we all know the feeling – you can barely drudge up the energy to even begin thinking of the chores and errands that need to be done to ensure that your home doesn't turn into an episode of Hoarders.
But we must complete these tasks to relax a little bit. Before we get the pleasure of a break, there is that familiar shot of anxiety, a lingering guilt saying in the back of our head, "Your New Year's resolution is to exercise more! Get moving, lazy!"
We are bombarded daily about the importance of staying active, and as a health care professional, I feel as though there is pressure placed upon my shoulders to practice what we preach.
But we all know someone that indulges in a guilty pleasure, in fact, it could be you. I know that every once in a while I like to indulge in unhealthy behaviour (cough* cough* Nutella cough* cough*).
But how can we increase our health by exercising without taking away from our health in terms of living in a clean, non-Hoarders-esque home, cooking dinner, paying bills, etc.?
The Canadian Physical Activity Guidelines suggests adults get a minimum of 30-minutes per day of moderate to vigorous aerobic physical activity five times a week. Dr. Mike Evans changed my perspective with his question: Can you limit your sitting and sleeping to just 23.5 hours a day?
How is it possible to achieve this in our busy lives? The answer is simple; find your motivation and adjust your priorities accordingly. Here are my top three tips for being active and I'd love her hear your tips in the comments below:
1. Set small measurable, attainable, realistic goals that have a definite end date. Download a free pedometer app and walk 10,000 steps each day or climb the stairs at work each day.
2. Try something new this winter! Try skating, curling, bowling, indoor sports, or yoga. You may fall in love with something you didn't even know existed, like zorbing, bed-racing, or extreme ironing (yes these really exist)
3. Make sure you get enough sleep. The American College of Sports Medicine recommends that adults get 7-8 hours of quality sleep every night. That means no more NETFLIX marathons until 2am (even though I too like watching a whole series in the non-judgmental secluded confines of my bed).
What are you doing to stay physically active? I'd love to hear from you to help inspire others.