Inspiring Continuing Care Residents through Music
Wednesday, January 21, 2015 11:31 AM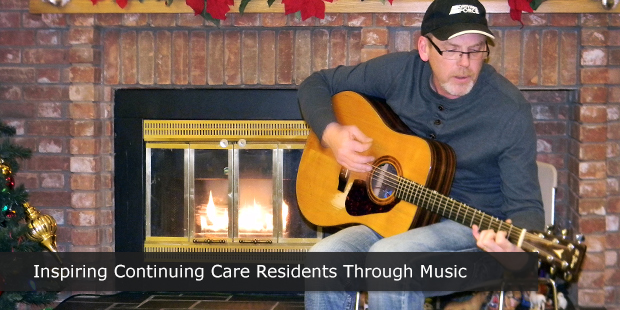 Music, playing the guitar and singing have always been a part of my life. I started when I was six, taking part in variety shows and benefit concerts. Then I found a new way to share my love of music.
Before I moved to Grande Prairie, I worked in the healthcare sector in Nova Scotia as a Bio-med for the Annapolis Valley Health District. During that time my wife's granddad asked me if I would be interested in volunteering some time and play music for the seniors at a local long term facility. This was the beginning of something that I truly enjoyed doing.
Since moving to Grande Prairie and starting my job in the maintenance department at Alberta Health Services, I've found a way to keep connecting with people through music. When I met residents of Mackenzie Place through my work, it didn't take long for them to get a hold of me and find a place in my heart, just as the Nova Scotia seniors had.
It started by just taking a few minutes every so often during breaks and lunches to play a few tunes, and it soon became apparent to me how much they enjoyed it – as did I.
So, I went to the volunteer services department and officially signed up. Now everyone knows to expect me on Wednesday evenings when my wife and I drop by for a visit and to entertain the residents.
Through my maintenance work, I met some of the residents who I thought couldn't speak, and others who I didn't think could move much. When I began to play and saw their toes tapping, hands clapping and smiles from these folks, it was extremely rewarding - worth more than any monetary compensation could offer.
I try and make a point to get in to Mackenzie place at least once a day to say hello to everyone. I have to do this after my work shift, as I know when one man in particular sees me I am going to get that great big smile and get asked to sit for a bit. He's one of the residents there, and I could listen to his "stories" (which I am positive are true) for hours.
I went over to see the staff and residents to wish them a happy holiday this past Christmas Eve, but couldn't see this particular gentleman around. I asked one of the staff who told me he was over in Emergency. My heart sunk as if he was my own dad or granddad. I didn't want to intrude by asking more, but he was on my mind the whole time I was off. I found out after the holidays that he was ok, which was a huge relief.
I am also a bit selfish, as playing at MacKenzie Place ensures that I pick up my guitar at least once a week, which didn't happen very often until I got back into volunteering. One of my first nights playing at MacKenzie Place, I was putting my guitar away when I heard this stern voice asking for my name. It was another one of the residents,  who didn't speak much from what I could tell.
She told me to give up the maintenance work and sing full time because, if I could make a 92-year-old woman happy with my music, I could surely make many others happy as well. This put a big smile on my face. I told her that if I did that, I wouldn't be there to play for them on Wednesdays.
"I never thought of that," she replied. "Ya, don't do that!"
That was the first time I had seen her smile.
The day the staff and residents threw me a surprise birthday party was one of the most humbling days of my life. To hear their heartfelt thanks was the best gift I could've asked for.
To hear more about Steve's story, watch: http://youtu.be/bbsow8TxHro
Please comment below: How have music or volunteering had a positive effect on your life?