Getting to the heart of it – tips to combat stress
Wednesday, February 4, 2015 4:36 PM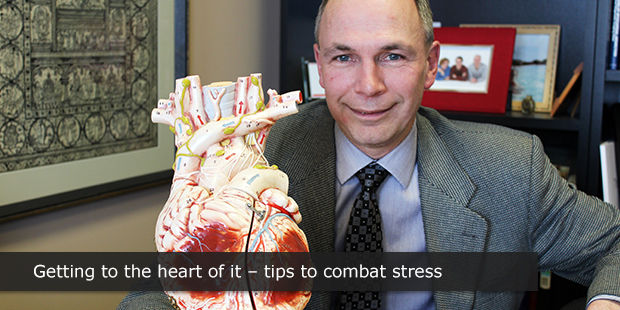 2015 is well underway, and although the holiday season is behind us, those new year stresses seem to linger and pile up – December bills, holiday weight gain, and heavy workloads.
Stress can lead to conditions such as raised blood pressure, higher heart rates, suppressed immunity levels, and an increased risk of heart attack and stroke.
As a practicing cardiologist, being prone to stressful situations isn't uncommon for me; however, taking part in my favourite activities such golfing, skiing, biking, and spending time with family helps combat these unwanted tensions. Since February is heart month, I thought I'd share my top five heart healthy tips to combat stress.
1) Exercise - Yes, you've heard it before, but exercising is one of the best ways to relieve stress. It lowers your blood pressure, strengthens your heart muscle, increases energy levels, and enhances weight loss. I recommend at least 150 minutes of moderate exercise a week to maintain a healthy heart and keep harmful stress levels at bay. Some methods I recommend include going for a brisk walk, taking a spin class at your local gym, or joining a 5k fun run with a friend.
2) Making healthy food choices - Try to choose foods that are high in fibre, contain heart healthy nutrients such as omega 3 fatty acids, and are free of saturated and trans-fats. So throw out the junk and start incorporating heart-healthy options such as fruit, veggies, low-fat dairy products, fish, and nuts.
3) Relax - I know this is easier said than done, but practicing relaxation methods is a wonderful way to prevent tension. Pop in your favourite movie, take a yoga class, read a book, schedule a massage, or spend some time with your special someone. Taking time for yourself and doing something you love will help melt those stress levels away.
4) Sleep well - Although we think we can manage with just a few hours, sleep is so important when it comes to maintaining proper health. People who do not get enough sleep at night have a higher chance of developing heart disease, so I recommend an average of seven to eight hours per night. Getting the recommended amount of sleep every night will help regulate hormone levels, stabilize blood pressure, decrease stress, and improve your energy level. Nothing makes someone feel better than waking up from a great night's sleep.
5) See your doctor - All of these tips are great starting points, but if you find yourself still struggling with the negative effects of stress, make sure to see your family physician. Occasionally, other interventions are required to get you back on track.
What are some of your favourite stress-busting tips?