Berry Spinach Salad
Friday, February 6, 2015 11:51 AM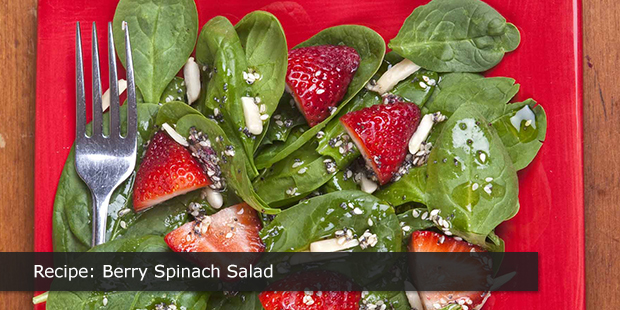 Summer salads are a refreshing way to use vegetables and fruits that are in season. Dark leafy greens such as spinach have many important nutrients for health, such as folate and iron. Eating Well with Canada's Food Guide recommends eating a dark green and orange vegetable every day!
Ingredients:
Salad:
1/3 cup (75 mL) Nuts, chopped (such as pecans, walnuts, almonds)
1 lb (454 g) Spinach
2 cups (500 mL) Berries, fresh or freshly thawed (such as blueberries, raspberries, strawberries)
Dressing:
3 Tbsp (45 mL) Sugar
¼ cup (60 mL) Canola oil
2 Tbsp (30 mL) White vinegar
1 Tbsp (15 mL) Ground flax seed*
¾ tsp (4 mL) Red or white onion, chopped
¾ tsp (4 mL) Worcestershire sauce
½ tsp (2 mL) Poppy seeds
¼ tsp (1mL) Paprika
*Note: Ground flax seed is available at most grocery stores. You can also crush whole flax seeds on your own.
Directions:
Place chopped nuts in a frying pan on the stove. Turn to medium heat and toast for 4-5 minutes, stirring every few seconds. When you start to smell the nuts and they have browned, remove pan from heat and let cool.
Wash spinach and tear into bite-sized pieces. Place into a large bowl.
Add berries to spinach.
In a tightly covered jar or container, combine ingredients for dressing and shake well. Set aside.
Just before serving, toss with dressing to lightly coat the salad.
Top with toasted nuts.
Makes 8 servings (500ml/ 2 cups/ 116g)
Per serving: 150 calories, 10 g total fat, (1 g saturated fat, 0 g trans fat) 50 mg sodium, 14 g carbohydrate, 4 g protein, 3 g fiber.
Find more inspiring recipes see healthyeatingstartshere.ca/inspiringrecipes