Kids in the Kitchen
Monday, February 9, 2015 8:58 AM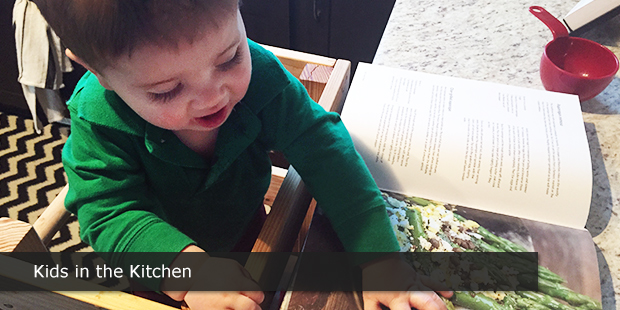 We're all pressed for time and all too often eating a healthy diet is one of the first things to fly out the window when we're juggling work, kids, activity schedules and household chores. Throw in picky eaters, dietary restrictions and the cost of fresh produce and sometimes we're left staring blankly into the fridge wondering, "What am I going to eat?" Enter an endless cycle of macaroni and cheese, toast with peanut butter and leftover popcorn.
When I returned to work from maternity leave, it took all of a week for me to realize that I needed to drastically change my dinner time routine in order to encourage healthy eating in our home. My 14 month old son loves to help, so between trying to get dinner on the table and holding him in one arm so he could watch me cook, I was left tired and in pain from dragging around an extra 23 pounds of toddler while trying to execute my kitchen routine. This was not working. We needed a solution – and fast. Mommy, daddy and son cannot live on apples and pita bread alone.
I was introduced to the idea of building a 'helper's bench' that would bring my son up to counter height so he could get in on the action. Not only would it save my arm, shoulder and back, it would allow my son to watch me prepare dinner and encourage his exploration of food. The helper's bench was an instant hit. Together we chop carrots, peel potatoes, add beans and stir the pot. We've made cookies, muffins and cupcakes, my son watching the mixer with wonder and excitement. I encourage my son to try raw vegetables, eat beans and nibble on other ingredients as we bake and cook. Through this process he's developed a love of green peas, chickpeas, red pepper, and zucchini and has even started munching away on raw onion.
We've further simplified our dinner time routine by using a crock pot for all week night dinners. On Sunday afternoon my husband, son and I prepare all our meals for the week in advance and throw the ingredients into separate Ziploc bags that we keep in the fridge. In the morning I dump the prepared ingredients into the crock pot, add the wet ingredients, set the timer on the crock pot and walk out the door. When we arrive home we are greeted by the smell of dinner, ready to eat, and clean up is done in no time.
Encouraging healthy eating from a young age is important – but it can be tricky. If you're thinking of getting your little ones in the kitchen to start helping and exploring the world of food, here are a few things to keep in mind:
1) Safety first – This is the most important consideration when involving kids in the kitchen. Ensure that knives, other sharp items, hot pans, pots, bakeware and other breakable items are kept well away from little hands. If your child tastes ingredients, ensure these are age appropriate foods and cut small enough that they don't pose a choking hazard. Constant supervision is absolutely necessary.
2) Things will get messy – There will be food on the floor, in your kid's hair and hiding down their pants. Beans will be mashed on the counter and a fine dusting of crumbs will settle on your kitchen table. It's all part of the process – and the fun – but make sure you have the time to commit to the process, and the clean up.
3) Plan and shop ahead – Meal planning is a great way to get a handle on week night dinners and eliminates the stress of trying to come up with something creative to eat on the spot. When shopping ahead with a menu plan, take advantage of sales on meat and other expensive items that can easily be divided into packages and frozen. We've reduced our grocery budget and saved our sanity by planning meals a month in advance, doing a monthly trip to Costco to load up on canned, frozen and other bulk foods and supplementing with a weekly 10 minute stop at the local grocery store for milk and fresh produce.
How do you encourage healthy eating in your home? Do you have any other suggestions for getting kids involved in the kitchen?