Walk like a Penguin
Wednesday, February 11, 2015 10:34 AM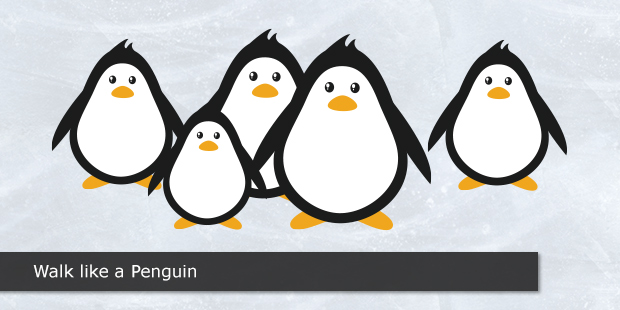 When it comes to winter, we have two choices, one healthy and one not so much: head outdoors or hibernate.
Of course, it comes as no surprise that I write this blog as a voice for the healthy choice. That is, heading outdoors and enjoying the winter wonderland, safely.
Let's face it: deep freeze temperatures and sheets of ice don't immediately inspire feelings of safety and comfort. Most of us have known someone - if not ourselves - who has fallen and been seriously injured on ice. In fact, from April 2013 - March 2014, injuries caused by falls on ice and/or snow accounted for 16,910 visits to Alberta Emergency Departments.
But, this doesn't make hibernating the safer bet. Quite the opposite: being sedentary is a known contributing factor to heart disease, diabetes, cancer, and unhealthy weight gain.
So this winter, don't be a bear. Instead, learn the penguin walk!
Their waddle really works:
Bend slightly and walk flat footed
Point your feet out slightly like a penguin
Keep your centre of gravity over your feet as much as possible
Watch where you are stepping
Take shorter, shuffle-like steps
Keep your arms at your sides (not in your pockets!)
Concentrate on keeping your balance
Go S-L-O-W-L-Y
Learn directly from our penguin friends in this great new video: http://bit.ly/1M3O9YG or visit www.penguinwalk.ca. Then show us your on-ice technique by taking a short video of yourself demonstrating the penguin walk and uploading it to Twitter using #penguinwalk