A powerful reminder why I do what I do
Wednesday, February 18, 2015 9:35 AM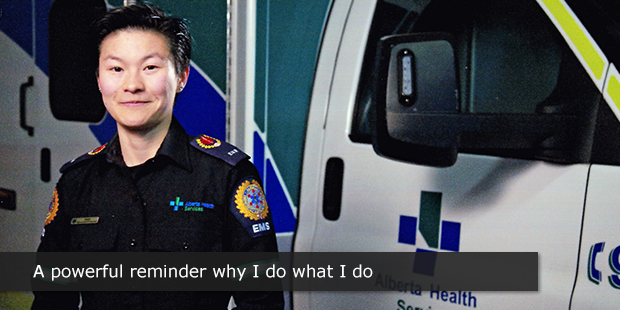 I had a simple reason for wanting to pursue a career with Emergency Medical Services (EMS).
I wanted to make a difference in people's lives.
I've been working since April as an emergency medical responder for IFT (inter-facility transfers), and my colleagues and I do a lot of transfers in and out of hospitals and continuing care centres.
When I can play even a small role in helping the individuals we transfer, there is no better feeling in the world. It's not easy work but it is incredibly rewarding.
Yet one day really stands out for me.
Last October, three of my EMS colleagues and I were given an opportunity to transport a 27-year-old man named Lance McNamara from his Edmonton hospital room, where he's been receiving treatment and rehabilitation for more than a year, to his hometown of Westlock, so he could attend a homecoming/fundraising event in his honour.
Lance is still very ill from post-H1N1 influenza complications and needed EMS transport and care to make this happen. We knew what this would mean to the young man, to his family and to his friends. We said yes.
When we first rolled Lance into the community hall, I immediately felt this young man is very much loved by his family and the community. The applause and cheers we received bringing Lance in told me that he plays an important role in this community.
The evening was about Lance; it was not about EMS.
Yet I'll always look back on this night when I want to remember my initial purpose for getting into EMS.
I love helping people, and this is a rewarding and meaningful career.
I'm proud to say AHS and EMS played a role in bringing a community together in support of a very nice gentleman.
It's one example — but a very special example — of why I do the work that I do.
To learn more about Lance's homecoming and EMS's role in it, watch: http://youtu.be/BggpCSWHuYw.
Do you have a special moment in your career that reminds you of why you love doing what you do? We'd love to hear about it in the comments below.
For more see story : EMS makes homecoming possible