Beef and Barley Chili
Monday, February 23, 2015 4:29 PM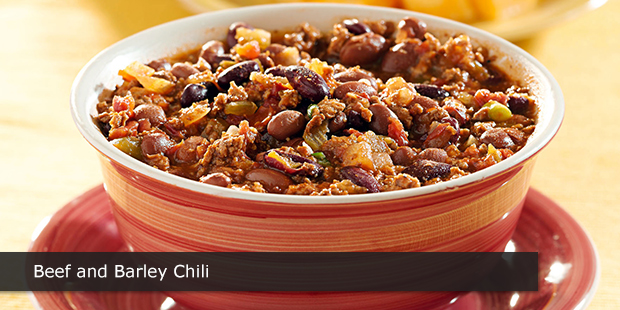 Alberta Nutrition Guidelines suggest choosing foods with at least 2 grams of fibre per serving. One serving of this dish provides almost half of your daily fibre requirement!
Ingredients:
1 lb Extra lean ground beef 454 g
1 Large Onion, chopped 1 Large
1 Tbsp Canola oil 15 mL
1 Small red or yellow pepper, chopped 1
3 to 4 Garlic cloves, crushed 3 to 4
1–28 oz can No salt added stewed tomatoes 1–796 mL can
2 cups Cooked red kidney beans
(or 1 can 19 oz (540 mL) no salt added, rinsed and drained) 500 mL
1–14 oz can Baked beans 1–398 mL can
1 cup Salsa 250 mL
1 cup Low sodium beef broth 250 mL
½ cup Pearl or pot barley, dry 125 mL
2 to 4 Tbsp Chili powder 30 to 60 mL
1 Tbsp Cocoa 15 mL
Directions:
1. In a large pot, cook the beef and onion in a drizzle of oil over medium-high heat for five to eight minutes, breaking up with a spoon, until the onions are soft and the meat is no longer pink.
2. Add the peppers and garlic and cook for a few more minutes, until soft.
3. Add the tomatoes, beans, salsa, stock, barley, chili powder, cocoa and pepper and bring to a boil.
4. Turn the heat down to low, cover and cook for about an hour, stirring occasionally, until reduced and thick.
5. Serve immediately, or cool then refrigerate for a day or two and reheat when you're ready for it.
Makes 8 servings (375 mL/ 1 ½ cup/ 375 g)
Per serving: 320 calories, 6 g total fat, (2.5 g saturated fat, 0 g trans fat), 700 mg sodium, 44 g carbohydrate, 23 g protein, 11g fibre.
Find more inspiring recipes see healthyeatingstartshere.ca/inspiringrecipes