Tend to Your Mental Health
Wednesday, March 4, 2015 1:51 PM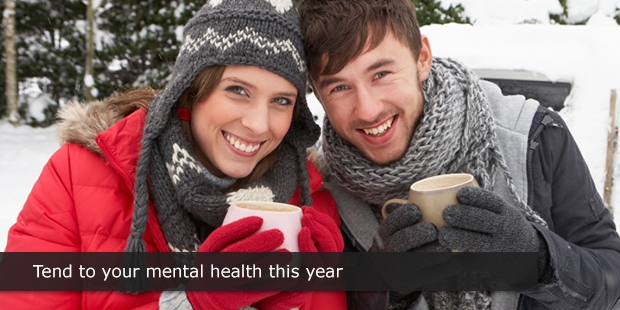 Can you believe we're into March already?  Love them or hate them – almost half of us made a New Year's resolution at the start of 2015. Perhaps you or someone you know committed to a new health goal, like starting an exercise routine or eating healthier. Indeed, physical health goals are common resolutions. But have you ever set a goal to boost your mental health? Maybe you don't use the term 'mental health'. Maybe you prefer 'well-being.' I personally think of it as 'self-care'.

Most people understand the goal of maintaining your physical health and preventing physical illness. You can do the same for your mental health, but we don't always think of it like that. Mental health is important to maintain, and it's possible to prevent mental illness in some cases. 

You probably already do things every day to take care of your physical health, like wash your hands or eat fruits and vegetables. Even if you haven't been taking care of your physical health lately, I bet you know what steps to take to improve it. What comes to mind when you think about tending to your mental health? I bet you already know a few things you could do for your own well-being.  Here's another way to think about it: what would you do if you wanted to boost your mood today? What if it was going to be a stressful day and you wanted to do something about it? There are many "right" answers to these questions. What's important is that you know some healthy options that work for you. 
As a psychologist and health promotion facilitator, I get to read about all the interesting research on what affects our mental health. Here are a few things you can do to promote your well-being:  
Keep physically active (e.g., go for a quick walk, play a game, dance)        
Learn something new (e.g., try a new recipe, take a course you've always wanted to, read)        
Give to others (e.g., do something nice for your spouse, hold the door, shovel your neighbour's sidewalk)        
Connect with the people in your life (e.g., e-mail an old friend, meet a co-worker for lunch)
Do any of your usual mood boosters or self-care activities fall into these categories? There are many options not on the list above. My personal favourites are catching up with my husband, journalling, and reading. What works best for you?
For more ideas and information on mental health:
Frequently Asked Questions about Mental Health
Parents Promoting Positive Mental Health