Tabbouleh with Barley and Chickpeas
Thursday, March 19, 2015 8:45 AM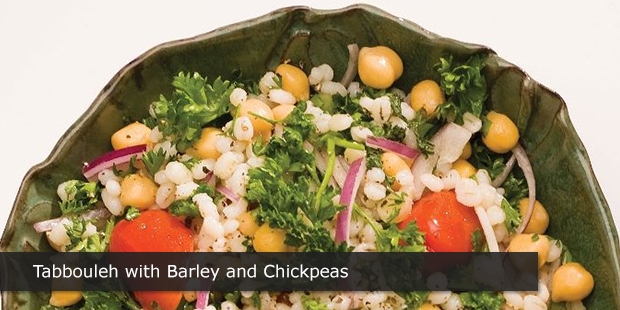 Alberta Health Services recommends limiting sodium to less than 2300 mg per day.  This tasty and exotic recipe uses onion, herbs, spices and lemon juice for flavour instead of salt.

Ingredients:
⅓ cup Dry pearl or pot barley 75 mL
1 bunch Curly or Italian flat-leaf parsley, chopped (discard stems) 1 bunch
2 Green onions, chopped 2
¼ cup Fresh mint, chopped (optional) 60 mL
2 cups Grape tomatoes, halved 500 mL
½ of 19 ounce can Chickpeas, rinsed and drained 
(or 1 ¼ cup /300 mL cooked chickpeas) ½ of 540 mL can
¼ cup Red onion, finely chopped 60 mL
1 Lemon, juiced (or more to taste) 1
2 Tbsp Extra-virgin olive oil 30 mL
½ tsp Freshly ground pepper 2 mL
Directions:
1. Cook barley in a small pot of boiling water until tender, about 40 minutes. Drain well and set aside to cool.
2. Transfer to a bowl and add the parsley, green onion, mint, tomatoes, chickpeas and red onion. Drizzle with lemon juice and olive oil, sprinkle with freshly ground pepper and toss.
3. Tabbouleh is best chilled for at least an hour before serving, and keeps well in the fridge for a few days.
Makes 4 servings (250 mL / 1 cup / 205 g)
Source: developed by Julie van Rosendaal for Apple, Alberta Health Services' health and wellness magazine.
Per Serving: 240 calories, 9 g fat, (1 g saturated fat, 0 g trans fat), 34 mg sodium, 34 g carbohydrate,  6 g fibre, 8 g protein.
For more recipes, see Inspiring Healthy Eating at Healthyeatingstartshere.ca