Feeding "A-HAs" For New Moms
Thursday, March 19, 2015 10:46 AM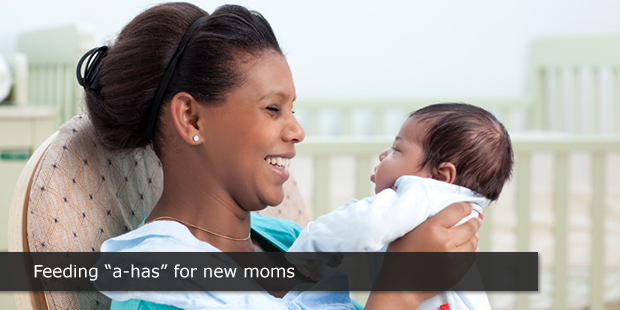 Introducing foods to new babies can be a nerve-wracking experience, and all parents just want to get it right. But there come moments during this stressful time when things suddenly click and become clear. I call these "a-ha" moments.
Helping parents realize these "a-ha" moments is one of my roles as a Registered Dietitian, where I promote health and wellness through to people of all ages, from babies to seniors. My job sees me working out of three Edmonton health clinics, as well as giving presentations at schools and seniors groups.
But my favourite class is the New Moms Network, which is a six-part series that Alberta Health Services provides. It is an opportunity in Edmonton for women to connect with other new moms and learn more about the health and development of their child. I teach one of the six classes on feeding your baby and introducing solid foods. Some parents are struggling with their child's picky eating, or just looking for advice on feeding their new baby. In most classes, I have at least one new mom who experiences her own "a-ha" moment.

Here are the top three "a-ha" moments that we see in the New Moms classes:
1. You don't need to buy commercial baby food. You can adapt healthy food for baby that you and are your family are eating. For example offer mashed avocado or banana – no need to buy it in a jar.
2. New parents often think that introducing iron-fortified infant cereal first is a must-do. However, we know a parent can start with iron rich foods like meat, beans, eggs and tofu (prepared to the right texture).
3. Pickles do not count as vegetables. This is a surprise to many. Since pickles are packed with salt (some have a lot of sugar too) – we do not recommend that parents feed pickles to their infants. It's probably good advice for adults too!
I recently received this feedback from a new mom who experienced her own "a-ha" moment: "Thank you for all the information! It's so hard to know what to do, with all the competing messages out there – we can't wait to try solids."
Some people may think of dietitians as the "food police",  but I like to emphasize that dietitians can be "food opportunists" offering  lots of suggestions regarding all the delicious and nutritious foods you can eat and enjoy.

What were the "a-ha" moments that you experienced in your quest to find healthy and nutritious foods?