Thank You for Being Our Heroes
Wednesday, April 22, 2015 9:46 AM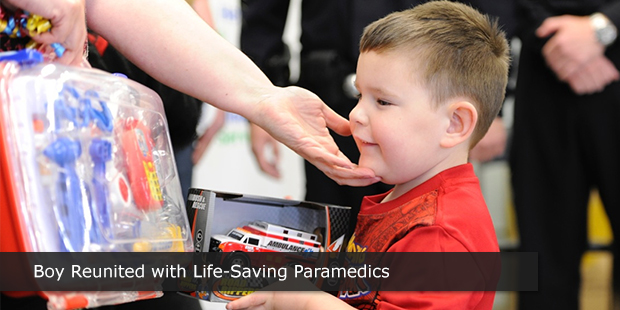 I'm writing this blog to thank all EMS, firefighters, doctors, nurses and hospital staff who helped in so many ways on May 15, 2010.
I'd also like to thank the doctors, nurses and hospital staff who continued to help my grandson, Talon, over the next four and a half months while he was in the hospital getting stronger.
My daughter, Megan, was due to have our first grandchild in September 2010. Little did we know that Talon had different plans.
On May 15, 2010, I went to work in the morning and I knew Megan was not feeling well, so I told her to stay home and relax.
When I got home, she was still not feeling well and, after Megan had gone to the washroom, she found out that her water had broke.
As I was getting ready to take Megan to the hospital, I called my mom and she said to just call 911, which I did. The 911 operator was amazing! She helped me deliver my grandson and, once EMS arrived, they were just as amazing.
They all jumped into action the minute they walked into my home. Everything moved so fast between cutting the cord, trying to get him to breath and doing CPR. Talon still has a scar from the compressions but now knows how he was saved!
Over the next four and a half months, Talon was treated for many things but kept fighting the whole way and beating the odds.
The only thing he continues to fight is his cerebral palsy.
But like everything else, he won't let it stop him.
Talon will be celebrating his fifth birthday next month and, just like all boys his age, he wants Power Rangers and Teenage Mutant Ninja Turtles.
We knew we had to make this reunion happen so Talon could meet the EMS crew who saved him because, to Talon, they are his heroes!
VIDEO: Watch the reunion here: https://youtu.be/Oe5cOZDwZgE
Do you want to thank a member of our Paramedic staff for care you or a loved one received? Go to www.thankaparamedic.com to send a Thank You note.