The Winning Surgery That Put Me Back On Track
Wednesday, April 29, 2015 10:53 AM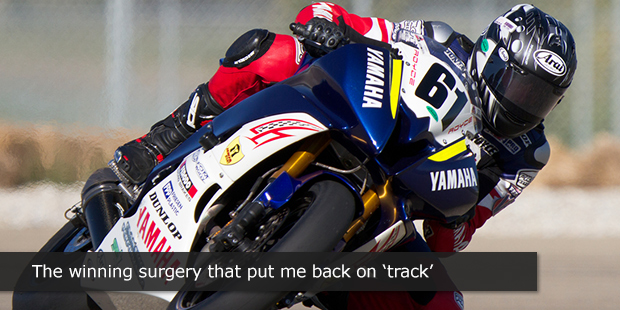 For almost six years, I lived with a right leg that was shorter than my left; the result of a fracture sustained in a racing accident at age 14.
The problem got worse as I grew. I am now more than six feet tall but, before surgery, my right leg was almost two inches shorter than my left.
On a personal level, the discrepancy made it hard for me to be active.
I couldn't play any sports that involved running or speed. Working a job was hard. Walking on uneven surfaces like gravel without rolling my ankle was a concern. I couldn't stand for very long periods of time; something few employers would have the patience for.
Training for my racing became more awkward. I wasn't able to run or jog for the past five years, and fatigue would set in quickly as the height difference in my leg affected my back, hips and knees.
My family and I expected my leg-length issue would be a lifelong problem – or, at best, we would have to travel far away, maybe to Toronto, to find any kind of solution.
You can imagine how excited my family and I were when we found the solution right here in Lethbridge with orthopaedic surgeon Dr. Carrie Kollias.
Because the surgery was done in our community, I've been able to do my rehab here, keep up with my local physiotherapist, stay with my trainer, and rest properly - right here at home.
We feel certain, too, that the security and comfort of being at home through the process made it possible to significantly reduce the amount and duration of pain medication required.
I opted to take the 2014 - 2015 seasons off to prepare for and heal from the surgery, and look forward to returning to competitive road racing – faster than ever – in the spring of 2016.
The success of this first-in-Canada procedure is a big win for me – and for Dr. Kollias, as well.
For more on this leading-edge surgery, visit: http://www.albertahealthservices.ca/assets/zone/ahs-zone-print-south-2015-05.pdf#3
Can you think of other examples of modern, life-changing surgery like Royce's which wasn't possible 20 or even 10 years ago?