What helps you stay mentally healthy?
Friday, May 1, 2015 10:53 AM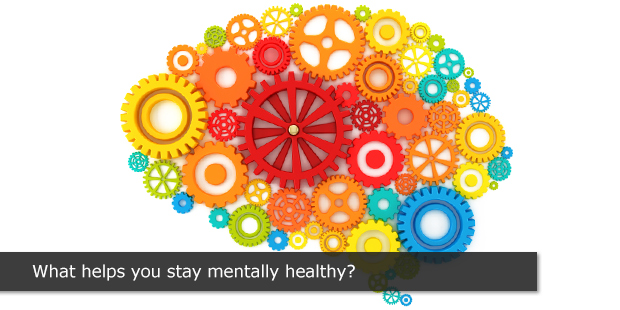 Mental health is a big topic in my family because many of my relatives have some sort of mental illness, including me. This means we are all aware of how we are doing most of the time and we check in with each other with questions like "how's your mood?" the way most people ask "how are you?" It also means we are all aware that looking after our mental and physical health needs to be a priority if we are going to stay well and enjoy life.
I have three main strategies for staying well.
Exercise is number one - if I don't do some form of intense exercise twice a week I can feel my mood start to slip and I can actually feel like I am coming down with the flu or something. But an hour of walking or working out in the gym later and I am right as rain. I walk to work so get a good 45 minutes of walking in every day and I find this very helpful to sustain my mood in between work outs. I have been in remission for about 15 years now, but I recall very well the work that was required to get myself up and moving when my mood was low, but how I knew I would feel better if I just did it anyway.
My second strategy is singing. Now, I am not a great singer so I only do this when I am alone or with my family. I love to belt out the 'oldie goldies' from my youth that are on my playlist but I have also noticed that just listening to up beat music helps. My favorite songs to sing are from the movie The Sound of Music - so corny, I know, but whatever works!
Thirdly there are days when I just wallow in it. This is usually when I am really tired from working or when there has been a lot of stress. I decide that I am going to have a 'wallow day' and I give myself permission to 'do nothing'. So I watch TV or go to a movie, eat whatever I want, have a long bath while reading a novel and laze about on the couch. I never let myself do this more than one day at a time and I probably only resort to this strategy once a month.
Being mentally healthy can look different for everyone. It's about finding what works for you. There are many strategizes to help improve our moods. Eating healthy and exercise probably have the biggest impact on our mental and physical health. But, spending time with friends, laughing at a funny movie, being grateful for the people in your life, or helping others can also help. Do what works for you.
What helps you improve your mood?