Caring is in the Family
Tuesday, May 26, 2015 3:01 PM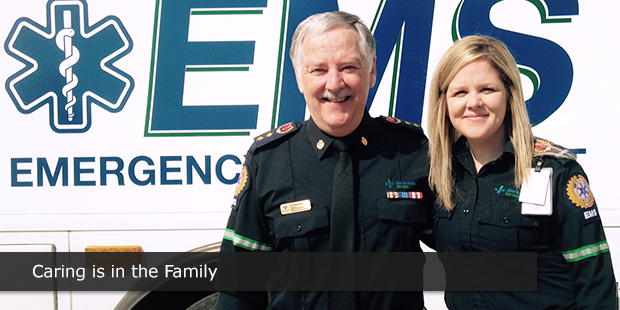 My name is Christie Nicholson and I'm currently a paramedic in Okotoks, AB.
While I've been working in EMS for 11 years, the truth is EMS has been part of my life ever since I was born.
You see, my dad is Jim Nicholson and he started his EMS career in 1976.
From a very young age, I remember flipping through dad's "Field Reference Guide"; a paramedic reference book that he carried in his uniform pocket everywhere he went. My sister and I would always ask questions about what we read and we hand on dad's every word as he answered using his real life experiences from the street.
Over the years, I got to visit dad at work. I'd look at the ambulance, parked quietly on the apparatus floor, and imagine some of the places my dad must've been in it. I was so proud I got to visit my dad at work and I always liked the comradery he displayed with this other co-workers during their precious downtime.
Dad shared his love of EMS with everyone. He'd bring his ambulance to my school, every year and he always the go-to guy on our street any time someone got injured or had a medical complaint.
In 1989, dad left the street to pursue a management role at EMS. He rose to become a Deputy Chief with Calgary EMS and today he is the Director of EMS Logistics and Support for Alberta Health Services.
After I graduated high school in 2000, I started thinking about careers. I pestered my dad for a ride-a-long and he eventually gave in. He set me up with Medic1, a downtown crew that was easily the busiest in the city.
After a wildly busy day stationed with a few of Calgary's most seasoned medics, I was totally hooked. I started pursuing my career in EMS and subsequently graduated from the SAIT Paramedic program in June 2004, 28 years after my dad finished his training at the very same school!
I've enjoyed a career in EMS for 11 years now. And my dad has spent close to 39 years dedicated to advancing and improving the EMS profession.  In that time, he has instilled in all of us a passion for helping people and a desire to always improve or make someone's situation better.
Three of us have followed my dad's passion for health.  My older sister, Cherie, is currently doing her medical residency in Toronto. My younger sister, Sarah, is a recent graduate of the Mount Royal University RN program.  In addition my mom is a nurse as well.
When we all get together, our family dinners consist of all of us trading work stories and case studies about interesting medical cases.  I know our dad is so proud to see the passion we all have for our careers.  And we have him to thank for showing us the way.
Christine and Jim are two of nearly 4,000 EMS staff across the province who work together to provide the best patient care possible on nearly 400,000 calls.
AHS is recognizing the dedication and professionalism of EMS staff across the province. Thank a paramedic at an event in your community during National Paramedic Services Week. http://tinyurl.com/k9xqbjp