Reaching Out to Isolated Seniors
Thursday, June 4, 2015 3:14 PM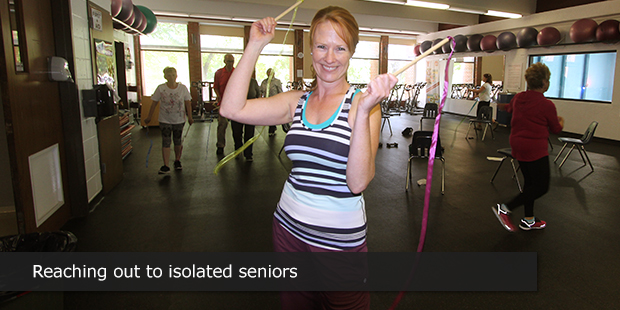 About a year ago, the Seniors Mental Health Outreach Team in Lethbridge set out to salvage valuable – but costly - seniors programs. At issue was the ongoing cost to transport our elderly charges about 30 kilometres from Lethbridge to the Prairie Ridge Rehabilitation Program in Raymond and back – nearly every weekday.

The programs were making a big difference, but we needed to provide them in Lethbridge. The folks we serve are our isolated seniors who have issues with mental health.  They can't get out. They don't have driver's licences. They don't have family members. They don't have friends. They don't have the kind of program in Lethbridge that provides a paid-companion to do things with people. They have nothing; so we're it.

We didn't want to duplicate other services but we did want to develop something that wasn't strictly therapeutic, but yet in a sense would be. The result – new and thriving groups that provide valuable socialization along with a little adventure and some physicality. For free. Transportation provided. 

Senior Sneakers is held at the Lethbridge YMCA and offers socialization and fitness. We also run Out-and- About groups that meet at a different place every week. It's group-led and members call the shots. They decide what they want to do and we just drive them there to do it. It's just about being out and seeing what's in our community.

We organized a Difficulties in Life support group for coffee and conversation. These individuals have gone through a loss in their lives; a spouse, a friend, a pet, a loss of independence. Any sort of change in life. That is such a great group. We brought them together and they just ran with it, and some of them are connecting with one another outside the group now.

We just started our first men's group, and we provide transportation for that too. It's a little bit like Out-and-About, but specifically for men. Sometimes senior men tend to isolate themselves and be reluctant to put themselves out there, so if we can provide some fun activities with just other men, it might be a little bit less intimidating for them to come out. We meet at a neutral spot with coffee and donuts. And then they'll come up with a group name and a list of things they'd like to do, and we'll do it.

A lot of times I go to work and think 'I can't believe I'm getting paid to do this.' It's so great. I've always had a love for seniors.  They have travelled so much both intellectually and physically as human beings. They have so much to offer, so much knowledge.  We can learn so much from them about how they've gotten by, how they've dealt with being mentally ill and going through hard times in their life. It's really fascinating, and yet it can sadden me, too.
The other day, one of the guys said something I thought was wonderful. He said, "Tara, do you know what a rock does when you toss it into the water?"
I said, "It sinks?"

"No," he said, "it skips. And it makes all these sorts of waves. That's you. You're the rock that connects us all together."  Isn't that nice? They're just appreciative to be together, to get out and do something, meet other people with commonalities, and find supports."

Are you able to visit with seniors in your life who might be stuck at home for various reasons? Why do you think it's important to reach out and connect with them, or take them out for an activity?