Couscous Salad
Thursday, June 11, 2015 9:35 AM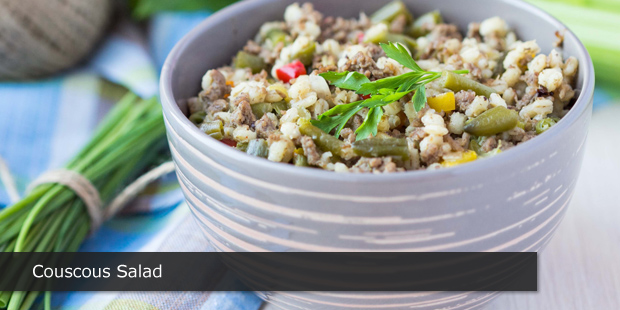 When setting goals for healthier eating, make small changes that will work for you, like taking the time to enjoy healthy meals.  This recipe is quick and easy to prepare, helping you in your goal to eat healthier.
 Ingredients:
2 cups Whole wheat couscous  500 mL
2 cups Water 500 mL
1 can Chickpeas 540 mL
1 ½ cups Corn 398 mL
¼ cups Red onion, diced. 60 mL
3 medium Tomato, diced 3 medium
1 bunch Green onion, chopped (about 1 cup) 1 bunch
½ cup Parsley or cilantro, chopped 125 mL
¼ cup Canola oil 60 mL
¼ cup Lemon juice, fresh (or 1 tablespoon bottled juice) 60 mL
1 tsp Salt  5 mL
½ tsp Pepper 2 mL
Directions:
1. In a medium pot, bring water to boil. Add couscous, cover and remove from heat. Let stand until all liquid is absorbed (10 to 15 minutes).
2. Fluff couscous with a fork.
3. Drain chickpeas and corn and rinse with cold water.
4. In a large bowl, mix red onion, green onion, parsley or cilantro, chickpeas, corn and couscous.
5. In a small bowl, mix oil, lemon juice, salt and pepper.
6. Add oil mixture to the salad and toss gently. Let salad stand for 10 to 15 minutes.
7. Serve at room temperature as a snack or side dish.
Makes 8 servings (375 ml /1 ½ cups /257 g)
Per serving:  330 calories, 9 g fat, (0.5 g saturated, 0 g trans fat), 470 mg sodium, 55 g carbohydrate, 11 g protein, 5 g fibre.
For more recipes, see Inspiring Healthy Eating at Healthyeatingstartshere.ca.