Children's Festival Food and Fun
Friday, June 12, 2015 11:04 AM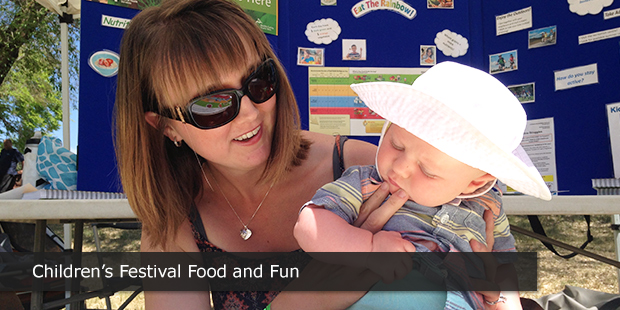 On June 5 and 6 Passion for Health volunteers from Nutrition and Food Services attended the Central Alberta Children's Festival, an annual event in Red Deer's Recreation Park organized by Family Services of Central Alberta. School groups and families flocked to the event over the two days, with more than 5,500 people coming through the gates. Many of those who visited the festival stopped by the Passion for Health booth to play age-appropriate, nutrition-themed games and learn more about healthy eating for the whole family. Registered Dietitian Gabrielle Blais and her colleagues were there.

We all feel that teaching children about health and nutrition is very important.  As a Registered Dietitian I probably feel even more strongly about that than most. That is part of the reason that I was thrilled to be able to participate in Central Alberta's Children's Festival for the third year in a row.

A lot of my regular work involves creating resources, developing policies and doing a variety of presentation for a variety of audiences. Not too much of my time gets to be spent teaching the up and coming generation about basic nutrition.  I'm often surprised to see how much or how little children of different ages know about Canada's Food Guide to Healthy Living and the four food groups. The Central Alberta Children's Festival offers the perfect venue for us to see what kids these days know. It also gives us the perfect opportunity to teach them, even if its just one little thing, that hopefully will help them develop into healthy and active adults later on in life.

The Children's Festival also gives us the opportunity to talk to parents and to share some information with them as well. Whether it is answering questions about picky eating, offering resources to expand the types of foods offered in the household, or even provide ways which parents can help to teach their children about food and nutrition. On more than one occasion I was asked questions about specific information, and for many of those questions, the answer could be found in a class or a resource that would be easily accessible to them.

I am grateful to AHS for allowing me the opportunity to share some of my knowledge with people, and I am grateful to the Central Alberta Children's Festival for providing an amazing place for me to do that.