Mediterranean Salad with Tuna
Friday, July 10, 2015 1:10 PM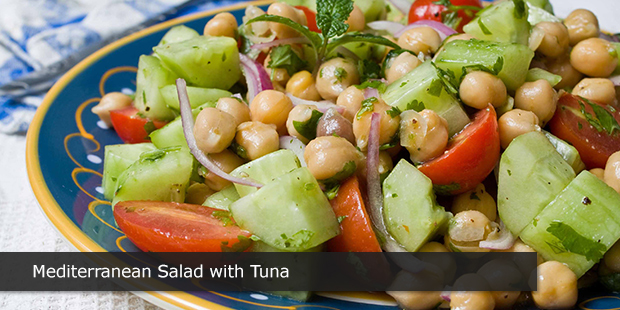 Canada's Food Guide recommends 7–10 servings of Vegetables and Fruit daily. An easy way to reach this goal is to have a salad – it's fresh, delicious, and naturally good for you!    
 Ingredients:
1–19 ounce can Chickpeas (garbanzo beans) 1–540 mL can
1 large Green bell pepper  1 large
1 small Red onion  1 small
4 medium Tomatoes  4 medium
1 bunch Radishes 1 bunch
1 medium Cucumber  1 medium
2 Tbsp Canola oil 30 mL
¼ cup Fresh lemon juice (or 1 Tbsp lemon juice, bottled) 60 mL
¼ tsp Salt 1 mL
¼ tsp Pepper 1 mL
1 Tbsp Parsley flakes 15 mL
1–6 ounce can Tuna, canned in water, drained 1–165 g can
Directions:
1. Drain chickpeas, rinse with cold water and transfer to a large salad bowl.
2. Wash all vegetables; remove the seeds from peppers, tomatoes and cucumbers, and dice very small. Add to the chickpeas.
3. Peel the onion, cut into two equal pieces and slice very thin. Add to the chickpeas and other vegetables.
4. Trim the top and end of radishes, dice very small and add to the chickpeas and vegetables.
5. In a small bowl, mix the oil, the lemon juice, salt, pepper and parsley flakes. Add to the salad and toss.
6. Top with tuna and enjoy!
Makes 6 servings (250 mL/ 1 cup/ 277 g)
Per serving: 210 calories, 7 g total fat, (0.5g saturated, 0 g trans fat) 340 mg sodium,
26 g carbohydrate, 13 g protein, 5 g fibre
Find more inspiring recipes see healthyeatingstartshere.ca/inspiringrecipes