811: Help is Just a Call Away
Tuesday, July 14, 2015 2:11 PM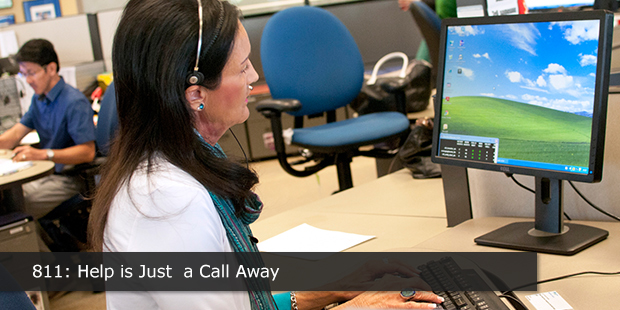 "Health Link, Rebecca speaking, I am a registered nurse. How can I help you?"  I start every call at my work this way but, what comes after is always different.

Recently, I had a new mom call. Not only was she very sick herself but she also had a sick newborn baby. She was distraught and did not know what to do. After assessing their symptoms, I was able to give advice about some safe and effective ways she could help control her own symtpoms and, advice on how to make her baby more comfortable. I also advised that she and her infant, should be seen by a doctor within 24 hours. Her doctor was part of a Primary Care Network in Calgary so I was also able to make a referal for an appointment for that same evening. The relief in her voice was evident. It was wonderful to be able to provide her with all she needed in that moment – easing her discomfort and her worry.

I have had many different experiences in my career as a registered nurse but, no position has fulfilled me more than my work at Health Link. I love my job. I get to be of service to people, ease pain and worry, share knowledge, teach and empower people.  No matter what the call is about, one thing is always true:  every caller gives me the gift of being able to help them.

For anyone who doesn't know, Health Link is a 24/7 telephone service provided to all Albertans by Alberta Health Services. It offers callers easy access to health information and advice.

My position is called a Teletriage Nurse, which is a nurse who has advanced experience and training to assess symptoms over the phone and give advice. As a registered nurse, I don't diagnose illness, but I can use the information I have gathered through questioning, along with our protocols and my knowledge and experience, to give the caller a recommendation about:
- if they should see a doctor
- where they should go for appropriate care
- a time frame of when they should be seeking medical attention
- what they can do to alleviate or treat symptoms at home
Do I have heat stroke? What's the best way to treat bug bites? How do I book immunizations for my baby or sign up for AHS' parent email subscription? How do I find a family doctor? Does this cut need stiches? Do I need to see a doctor about this rash? cough? vomiting?  If you have ANY health questions similar to these, please call Health Link. We would be very happy to help you. We also help to provide trustworthy online health information at www.myhealth.alberta.ca.

Recently, it's become even easier to access Health Link. Just dial 811 anywhere in Alberta, and your call will come directly through to us. This is an exciting change and we've already heard great stories of people who have received much needed help after calling 811 because it was so easy to remember.
What do you think of the new Health Link number?  Let us know in the comments section below. We'd love to hear from you!