Lifestyle refreshed with Better Choices, Better Health®
Thursday, August 20, 2015 3:49 PM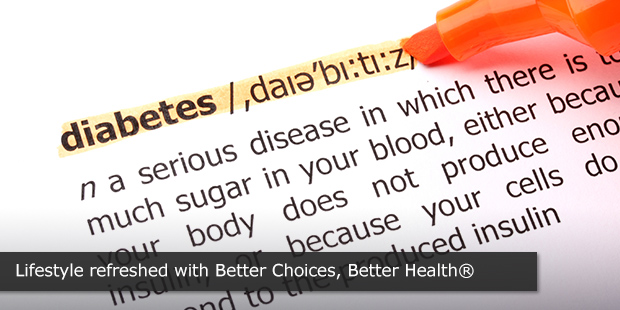 For all the Albertans out there who have to work hard every day to manage an ongoing health condition, this post is for you. There's great support available to help you feel better – and it's free!
I have spent years seeing chronic disease management from two very distinct perspectives: professionally and personally.
I work in chronic disease management for Alberta Health Services. I also live with diabetes. Somehow these two perspectives don't seem to perfectly connect the way I would like them to. They are like two trains moving on parallel tracks. They're aiming for the same destination but never make it to the same station. My personal self-management skills sometimes struggle to meet the guidelines I know and promote at work. Every now and then, real life seems to get in the way.
I was diagnosed with type 1 diabetes 10 years ago and at the time insulin injections and blood glucose testing were the main tools in my toolbox. Over time it became clear that I needed more. More to keep my body healthy, more to keep my medications in check, more to stay positive and feel comfortable doing the things I love to do.
As luck would have it, I recently took on a new role with AHS and as part of my orientation I participated in Better Choices, Better Health® Online. This self-management workshop for people who live with chronic conditions was an incredibly positive experience. I learned so many important techniques to help invigorate my health management plan.
The program pushed me to take the time I needed to reflect on how I was managing my health, identify areas of growth and find support from a group of peers. I felt very safe sharing my concerns and struggles with the group and leaders. No matter what I shared, there was always someone who could relate with my experience and feelings and was able to provide self-management ideas.
Better Choices, Better Health® is available to all Albertans for free. There are in-person workshops and it is also available online. As an online participant, no matter how busy I was at work or home, I was able to connect to the program and with my fellow participants. The online format allows for 24/7 access to information and resources and the leaders were very good about answering questions quickly.
I'm happy to say that Better Choices, Better Health® was able to bring those two trains into the same station. It gave me the tools and support I needed to merge what I know professionally, into my busy personal life. I would highly recommend the program to anyone on with a chronic condition and the online option is particularly helpful for young professionals, balancing the demands of family, work and play.
For more information on both the online and in-person Better Choices, Better Health® workshops visit www.albertahealthservices.ca/bcbh.asp.