Zucchini Apple Carrot Muffins
Wednesday, August 26, 2015 10:01 AM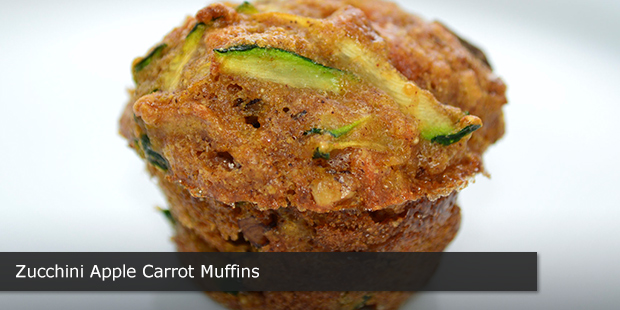 Eating foods with fibre is an important part of a healthy diet. This tasty recipe makes it easy to do that because it uses high fibre ingredients such as whole grain flour, vegetables and fruit.
 Ingredients:
2 cups Whole wheat flour 500 mL
4 tsp Baking powder  20 mL
1 tsp Cinnamon 5 mL
½ tsp Salt 2 mL
¼ tsp Nutmeg 1 mL
3 large Eggs 3 large
¾ cup Canola oil 175 mL
1 ¼ cups Sugar 310 mL
1 tsp Vanilla 5 mL
2 cups Grated zucchini 500 mL
1 cup Grated carrot 250 mL
1 medium Finely chopped apple 1 medium
¾ cup Raisins 175 mL
½ cup` Chopped pecans or walnuts  125 mL
Directions:
1. Preheat oven to 375°F (190°C).
2. Spray two muffin tins or one loaf pan with nonstick cooking spray.
3. In a medium bowl, mix together flour, baking powder, cinnamon, salt and nutmeg.
4. In a separate large bowl, beat together eggs, oil, sugar and vanilla. Add zucchini, carrot, apple, raisins and nuts and stir together.
5. Add flour mixture to zucchini mixture and mix until combined.
6. Pour batter into muffin tins or loaf pan.
7. Bake muffins for about 25 minutes or loaf for about 50 minutes. It will be done when a toothpick inserted into the center comes out clean.
Makes 24 muffins (56 g)
Per Serving: 190 calories, 10 g fat, (1 g saturated fat, 0 g trans fat), 140 mg sodium, 24 g carbohydrate, 3 g protein, 2 g fibre.
For more recipes, see Inspiring Healthy Eating at Healthyeatingstartshere.ca