Campus Lunches
Thursday, August 27, 2015 3:16 PM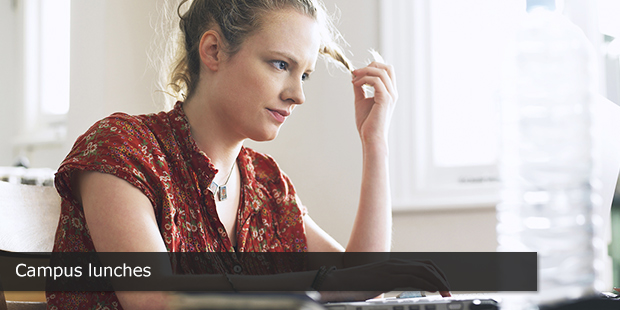 I spent the last 5 years pursuing my nutrition degree at the University of Alberta . Some days it felt like I lived on campus. Despite knowing a lot about nutrition, I often struggled to have a healthy lunch. Even with healthy lunch options available on campus, I rarely had extra money to buy them.

A lot of post-secondary students likely face the same challenges I did when  packing a lunch, challenges such as:
- There is no room left in your backpack to put a lunch.
- You don't have a locker to lighten your load during the day.
- Depending on the time of day, there can be long line-ups for the microwaves.
- It's disruptive to eat in class; I've heard from professors and students that noisy or strong smelling foods are distracting.
By the end of my degree, I was much better at packing healthy, balanced lunches while addressing the challenges of bringing them to campus. Here are my strategies that helped. They can be categorized as the 4 P's: Plan, Purchase, Prepare, and Pack:
 
1. Plan out your lunch

To make a balanced lunch consider the healthy plate concept, making vegetables and fruit a priority. Include three of the four food groups. For example:
- Healthy bento-style lunch boxes–cheese, whole grain crackers, fruit, and vegetable sticks
- Rice bowls–brown rice, vegetables, a meat or alternative like chicken or lentils, and a low sodium sauce
- Sandwiches–whole grain bread, meat or cheese, paired with chopped vegetables or a piece of fruit. Click here for more interesting sandwich ideas.
- Save strong smelling foods for home (for example: sardines)
- Make a list of what foods you will need to buy. Here is a link to a shopping list.
2. Purchase
- Save money with your planned meals by: using a flyer to check sales, making a list and buying only the groceries you need.
- Consider some quiet school snacks like fruit, yogurt, cheese, to minimize the noise that could result from chewing or noisy packaging when in a quiet area.
3. Prepare food ahead of time

- Make extra food at supper for leftovers. For example; bake enough chicken for the next few days. This can be used as a sandwich/wrap filling or can be added on top of salad greens.
- Stews or chilis can be made ahead of time and frozen into lunch-sized portions.
- Cut up vegetables and fruit and bag them for easy to grab snacks.
- Pre-pack salad greens in reusable containers.

4. Pack

- Pack your lunch the night before and leave it in the fridge.
- Re-heat leftovers in the morning and put in insulated container to save from waiting in line for a microwave.
- Use a reusable lunch bag. It's easy to carry when your backpack is full
- Pack and fill a reusable water bottle to stay hydrated.
- Although lunches packed in glass jars look appealing, these are heavy and breakable opt for reuseable plastic containers.
- Always put an ice pack in your lunch bag to keep things chilled or if you are short of space or want to keep your less heavy you can freeze your water bottle.
 
As students we spend most of our time at school, so packing a lunch helps to save us money and can help fuel our learning the healthy way.