Quick Chicken Salad on a Bun
Friday, September 4, 2015 9:46 AM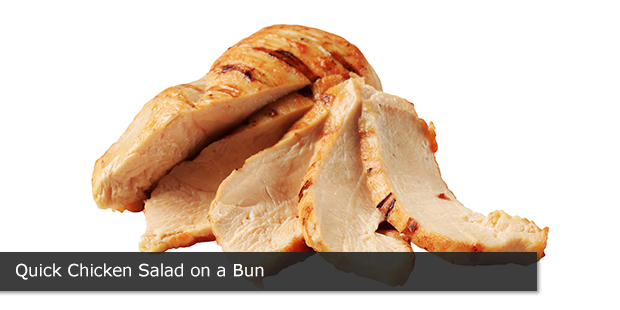 This quick and easy sandwich will help you use up any leftover chicken breast and fresh vegetables in your fridge. Add a glass of milk and a piece of fruit to make a quick, healthy and complete meal!
Ingredients:
2 Whole wheat hot dog buns 2
½ cup Chicken breast, diced 125 mL
¼  Red pepper, diced ¼
4 Celery stalks, diced 4
2 Tbsp Plain 1% M.F. yogurt  30 mL
1 Green onion, chopped 1
2 Lettuce leaves 2
¼ tsp Paprika 1 mL
¼ tsp Dill weed, dried 1 mL
1 tsp Balsamic vinegar 5 mL
Directions:
1. Cut open hot dog buns and place lettuce on bun.
2. Toss together chicken breast, red pepper, celery, green onion, paprika, and balsamic vinegar.
3. Divide chicken salad between buns.
4. Wrap in plastic film or parchment paper and refrigerate until ready to be served.
Makes 2 servings (1 sandwich / 211 g)
Source: developed by Terry B. for Apple, Alberta Health Services' health and wellness magazine
Per Serving: 210 calories, 3.5 g fat, (1 g saturated fat, 0 g trans fat), 310 mg sodium, 28 g carbohydrate, 18 g protein, 5 g fibre.
For more recipes, see Inspiring Healthy Eating at Healthyeatingstartshere.ca