Cardiac Pioneer's Legacy Saves One of His Own
Friday, September 4, 2015 12:22 PM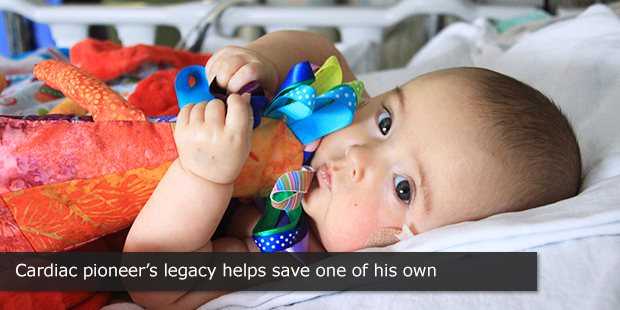 The word 'lucky' isn't something you would usually use to describe my situation.  It is not lucky to have a child born with a heart defect that would require open heart surgery.  It is not lucky to have to watch your 4 and a half month old daughter get carried away to the operating room in her tiny surgical gown while you sit there in utter shock and silence.  It is not lucky that you will have to watch her grow and try not to worry that her little heart won't be able to do everything that she wants.
But we were lucky because Tate was born with a heart defect and not any other problem that can go wrong in kids.  That's because my grandfather was a famous cardiac surgeon, he invented the pacemaker and even developed the surgical technique that repaired Tate's disease, Tetralogy of Fallot.  Dr. John Callaghan invented this procedure almost 60 years ago, long before he ever thought it would save his family member's life. He died before he had a chance to know the impact his work had on me and his great-granddaughter.  His legacy put Edmonton on the map for heart surgery and allowed us to attract world-class talent like Dr. Mohammed Al-Aklabi to the Stollery who did Tate's surgery.  We were lucky that Tate could have a valve-sparing procedure which means she does not need a follow up surgery later on in life.
Many at the Stollery weren't so lucky, and our 10-day hospital stay sounds terrifying to all the parents of healthy kids. But for some, it is yet another surgery or another visit to the isolation room for their kids.  It was the worst 10 days of my life and the tears wouldn't even flow after a while.  But my little baby is the toughest person in the world, what she had to endure is still a painful memory but it is behind us.  I am lucky to have such a wonderful, happy, smiling baby girl in my life and lucky that she is going to be okay.
But it isn't luck that saved her, it is commitment and caring by those at the hospital and all the men and women like my grandfather who dedicate their lives to saving all the little hearts in Canada.
For more on Dr. John Callaghan's significant contributions to cardiac medicine, visit: http://www.lieutenantgovernor.ab.ca/aoe/health/john-callaghan/
Do you have an inspiring story like this to share? Send us an email at yourvoice@ahs.ca