Black Bean and Rice Soup
Thursday, September 17, 2015 1:30 PM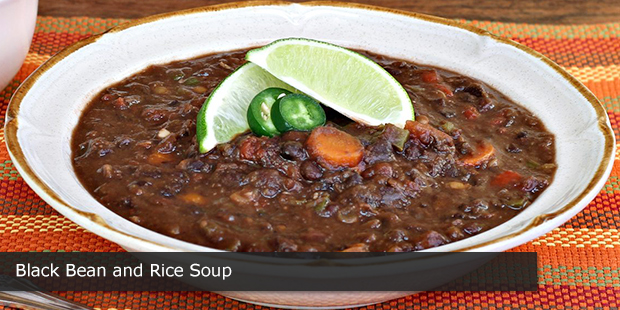 A serving of this soup is a very high source of fibre. Alberta Health Services recommends choosing foods with at least two grams of fiber per serving. The whole grain brown rice, vegetables and black beans all increase the amount of fiber in this soup.
 Ingredients:
1 cup Brown rice, dry 250 mL
2 cups Water  500 mL
2 Tbsp Canola oil  30 mL
1 medium Onion, diced 1 medium
2 cups Canned diced tomatoes  500 mL
2 cups Canned or frozen corn  500 mL
1–14 ounce can No salt added black beans, rinsed and drained  1–398 mL can
2 tsp Salt  10 mL
1 tsp Pepper 5 mL
2 tsp Garlic powder 10 mL
1 tsp Ground cumin 5 mL
6 cups Water or low sodium vegetable broth 1.5 L
1 cup Parsley, minced  250 mL
1 large Fresh lime cut into wedges  1 large
Directions:
1. In a heavy pan, mix rice and 2 cups of water. Bring to a boil, lower heat, cover and cook until all the water is absorbed (20–30 minutes).
2. Remove rice from heat, fluff with a fork, cover and set aside.
3. In large pot, heat oil; add diced onion and sauté until onion is soft. Add tomatoes, corn, black beans, salt, pepper, garlic powder and cumin. Add water or broth; cover and bring to a boil.
4. Add rice to the pot; simmer for another 10–15 minutes until rice is fully cooked. Add minced parsley.
5. Serve soup hot with lime wedges.
Makes 6 servings (500 mL/ 2 cups/ 585 g)
Per Serving: 220 calories, 6 g fat (0.5 g saturated fat, 0 g trans fat), 430 mg sodium, 38 g carbohydrate, 4 g protein, 7 g fibre.
For more recipes, see Inspiring Healthy Eating at Healthyeatingstartshere.ca