Environmental Health Officers at Work for Albertans
Friday, September 25, 2015 9:53 AM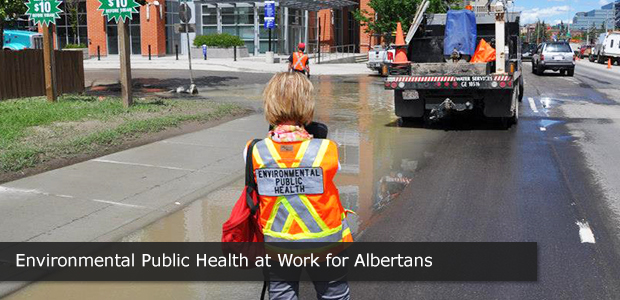 When asked, "What do you do for a living?"  I'm always proud of my answer; "I am an Environmental Health Officer." 
Occasionally, my response raises eyebrows or prompts questions such as "so do you inspect restaurants?" But when I explain what Environmental Public Health actually is, I have many times received the response "Wow, cool job!"
I have been an Environmental Health Officer for 17 years and counting.  This career has been rewarding and challenging at the same time. It was this profession's diversity and positive impact in people's lives that attracted me in the beginning. The scope of our work is vast, and its variety and encounters are endless. Our ultimate goal however, is the protection of public health, and it is extremely rewarding.
Environmental Health Officers, also known as Public Health Inspectors, work hard every day to keep the public and the environment safe and healthy. Yes, restaurant inspections encompass a large portion of our work, but as important are inspections of public swimming  pools, day cares, rental housing, tattoo and piercing facilities, long-term care facilities, dental offices, public beaches, public drinking water sources and inspections of just about anything, anywhere that can adversely affect the health of the public.
It is AHS' duty to protect public health. As part of that, we follow up on complaints made by the public regarding any of these facilities and are involved in investigating disease and foodborne illness outbreaks when someone gets sick from consuming unsafe food or drinking water. Recently, I was involved in the outbreak of Vibrio parahaemolyticus associated with BC oysters. This virus is naturally found in the environment and can accumulate in oysters grown in warmer coastal waters.  Vibrio paraheamolyticus is killed when oysters are cooked however; those who choose to consume raw oysters were found to be at a higher risk of contracting Vibrio causing gastrointestinal issues like vomiting and diarrhea.
Together with a task group from various government agencies, we were responsible for the food recall and communicating that information to the public. My role was to develop resource materials for the public and restaurant operators that offered raw oysters for consumption, to educate people about the risks of consuming raw or undercooked oysters.
Public education is currently the majority of my current daily work and is another important aspect of the work Environmental Health Officers can do on a daily basis across the province. We deliver educational courses to the public in food safety, pool operation, day care and personal services. We are responsible to communicate to the public about possible health risks (e.g. unsafe water, housing or disease control) that may arise. We inspect public beaches, conduct water testing and post or relay results that may adversely affect the public's health. We are a primary source of public health information; countless resources for the home, businesses and communities are developed and updated regularly, which we post on our Environmental Public Health website.
Environmental Health Officers are empowered by the Government of Alberta, through the Public Health Act, to issue Executive Officer's Order. These Orders are designed to help use ensure operators of public facilities comply with minimum standards of safety and sanitation. The Public Health Act empowers an Environmental Health Officer to enter a public facility at any reasonable time in order to carry out inspections to ensure the Public Health Act is being upheld. When violations are found, operators are informed of the corrective actions they need to take to ensure compliance. If repeated violations are found, enforcement action may be taken, including requiring the operation to close to protect public health until the unsatisfactory conditions are corrected.
AHS attempts to work collaboratively with operators to address issues and prevent risk to the public, but to protect the public's health, we are able order an operator to comply with the Public Health Act and its Regulations if necessary. An Environmental Health Officer is additionally able to file charges with the Court of Queen's Bench and have an operator brought in front of a judge, who may issue significant fines. Although public education is preferable, enforcement is sometimes our only means to ensure compliance.
We work hard every day to make a difference in the health and safety of Albertans.  The career I chose may not be exciting to some, but for me and all my colleagues in Environmental Public Health, we are making a quiet and positive difference to the lives of all Albertans. 
Happy Environmental Health Week!